GREETINGS, TERRANS!
CHECK OUT
WHAT'S NEW!

Just Released!
THE SECRET OF THE GREEN PAINT

ZETI CHILD, LOST UPON A ONE STAR WORLD

Welcome to Earth Star on the Web. Here you will find a wealth of articles on diverse topics including UFOs and extraterrestrials, the paranormal, healing, earth changes, spirituality, the latest sightings, channeling, astrology, book reviews, art, poetry, plus conference news and reports, and a whole lot more.
WHERE WOULD YOU
LIKE TO GO?


The Star Beacon: Earth Star's monthly paranormal newsletter. Subscription info can be found by clicking here.




BOOKS, T-SHIRTS, TAPES -- NEW!
Earth Star's Store features metaphysical, self-help, children's literature and adult fiction, plus original T-shirts and conference lecture tapes. Visit now by clicking here.





PSYCHIC READERS
The NEW Psychic Readers Directory lists Intuitive Counselors from all over. Check out who's doing what, and how to contact them, by clicking here.




THE BEST OF
THE BEACON
Selected articles which have appeared over the years in The Star Beacon
Click here.




CONFERENCES
Check out upcoming conferences by clicking here.





FRIENDSHIP CLUB
Earth Star's Galaxy Wide Friendship Club is the place to find like-minded pen pals. Visit now by clicking here.





ART GALLERY
Earth Star's NEW Art Gallery features paintings by Ryan Ulrich plus an assortment of art (including extraterrestrial). Visit now by clicking here.





ARIZONA PAGE
Visit exotic and beautiful Why, Arizona. You can go there by clicking here.




MULES
Animal lovers will get a "kick" out of our Mule Page, featuring the Stucker Mesa Mules. Click here.


PUBLISHING
Earth Star Publications offers book packaging services for self-publishing authors, as well as a lot more. Please see our List of Services.
ADVERTISE HERE!
Advertise your wares or services here by placing an ad in The Star Beacon. To view CLASSIFIED ADS click here. For more information on advertising, e-mail us at UFOeditor@yahoo.com. For information regarding the Psychic Readers and Healers Directory, please e-mail starbeacon@gmail.com.
Cosmic Book, Music and DVD Reviews
from the March 2008 Star Beacon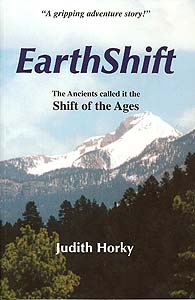 Photon Belt arrival, artist contactee, music and Billy Meier film
Reviewed by Ann Ulrich Miller
EarthShift, by Judith Horky
Crystal Mountain Press
5392 No. Pagosa Blvd..
Pagosa Springs, CO 81147, www.earthshift.net
ISBN 0-9711862-0-0, $13.95

Last summer when I was visiting my lightworker friend, Honey Lee French, in Colorado Springs, she gave me the book, EarthShift, by Judith Horky, and told me to read it. I promised I would, even though there were a dozen books on my reading pile I had to get through first.
Honey Lee told me she had been in Pagosa Springs when the book just happened to fall off a shelf. She bought the book without hesitation, and after she read it she went back and bought ten more copies to pass out to friends. Even though it was months later before I finally picked up EarthShift, after reading it, I understood what she meant.
The cover proclaims, "The Ancients called it the Shift of the Ages." Some call it by other names: The Awakening, Ascension, Armageddon, The Rapture and Transformation. This book embraces the Photon Belt, a phenomenon composed of energy that is slowly sweeping through the galaxy, and, in Horky's words, "changing the electromagnetic field of Mother Earth and life as we know it."
The fictional story revolves around Julie Armstrong, a mother and grandmother who lives the kind of life a lot of us dream of having — married to our soul mate, surrounded by the beauty of mountains and animals, and involved in our children's successes and challenges as they grow, nurtured by our gentle teachings and guidance. Julie is a writer and loves her horses and chickens. I was astounded at how much that sounded like me.
I read this book out loud to my husband, and he interrupted to ask, "Did you write this? Are you sure?" Let me tell you, I wish I had written this one. It is delightful and filled with truths that you want to share with everyone in your life. Horky's writing flows and unfolds a gripping adventure story as Earth grapples with the arrival, at last, of the Photon Belt.
If you ever wondered what it might be like to ascend into the fifth dimension, you'll find it in EarthShift. I was particularly fascinated by how plastic products simply disappeared after the Shift. Bottles of drinking water suddenly turn into pools on countertops, and babies' Pampers are no more. People wearing polyester find themselves in embarrassing situations while those who have converted to cotton still have their clothes on.
I don't want to spoil any of the surprises for you. EarthShift is not only an exciting page-turner, but chuck full of wisdom and messages that will inspire you to pass the book on to "non-believers."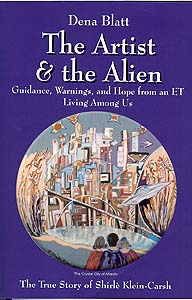 The Artist & The Alien, by Dena Blatt
Outskirts Press, Inc., Denver, Colorado.
Paperback, 253 pages, w/B&W paintings, 2007
ISBN 978-1-4327-1285-3, $21.95

What can I say about another true story of the Canadian artist, Shirlč Klein-Carsh, except that it's a story that is worth telling again... and again. She is an incredible person, and one of my very favorite UFO heroines. I have had the pleasure of knowing Shirlč in person and working with her, and it never ceases to amaze me her energy, her enthusiasm and her honest-to-goodness sincerity that makes this story believable.
In 1970 Shirlč met Frank, an alien in human form, who worked as an electronics repairman in a second-hand shop and met with her over a two-year period, instructing her and preparing her for her future mission. As proof of his origin, he gave Shirlč six copper plates upon which he had imprinted, in alien writing, messages that he told her would have meaning for her in the future.
Shirlč had many trials and tribulations throughout her life, and it didn't help that she lost her soul mate husband, Hymie, at an early age. From childhood she had felt as though she "didn't belong," and with whom could she share her very real experiences and visitations? She is a woman before her time, whose surrealistic paintings are most literally "out of this world" and astoundingly beautiful.
I consider it an honor having Shirlč as one of my original Star Beacon readers, and recommend you get a copy of the book from her.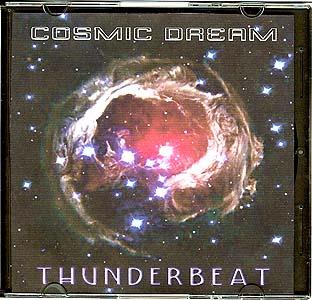 Cosmic Dream, music CD by ThunderBeat
ThunderVisionRecords
P.O. Box 3700, Sedona, AZ 86336
(Devara White, 928/204-0752), 2008

ThunderBeat has come out with an inspiring, vibration-raising music CD to help awaken and heal through the power of sound. A gifted shamaness, ThunderBeat melds tonal and tribal elements into multidimensional soundscapes. Her soothing harmonies comfort the spirit and your soul will be awakened by the rhythms.
Given her name by Native American elders, ThunderBeat is of Choctaw and Shawnee heritage, an international recording artist and performer who studied at the Eastman School of Music. Since 1993 she has researched sound frequency therapy, and in 1997 she advanced her unique sound healing techniques after her spiritual initiation in the Great Pyramids of Egypt.
You will feel you are actually on a journey into space. You can sample the music and order a CD at the Web site: www.ThunderBeat.com.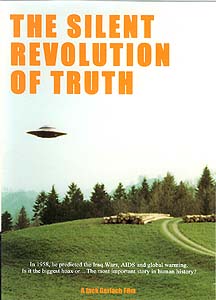 The Silent Revolution of Truth, on DVD
94 minutes (plus special features)
LightSource Entertainment, Inc. and They Fly
produced by Jack Gerlach
and Michael Horn, 2007

In 1958, Eduard "Billy" Meier predicted the Iraq Wars, AIDS and global warming. Is it the biggest hoax, or the most important story in human history? The producers claim you'll find the startling answer in a remarkable, true-life story about how a 5-year-old Swiss boy's meetings with ETs would lead him, later in life, through dozens of countries, meeting famous world leaders (including Saddam Hussein), in order to fulfill ancient prophecies.
This DVD contains hundreds of the one-armed Billy Meier's clear, daytime UFO photos, films, video, sound recordings and metal samples that remain irreproducible to this day.
You can decide for yourself when you view this film whether it's all a hoax... and why Meier has been the target of 21 assassination attempts. It's excellent!
---
Check out WHAT'S NEW

Subscribe to The Star Beacon

Return to Earth Star's Home Page


---
Copyright © 2008 Earth Star Publications
For permission to reprint articles or use graphics, e-mail lightworker@earthstarpublications.com.