Zeti Child
Lost Upon a One Star World
by Commander Sanni Emyetti Ceto
© 2011 (all rights reserved)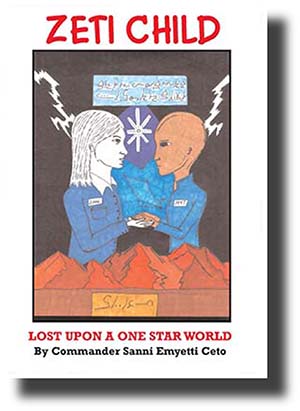 In her second book Commander Ceto elaborates on her Roswell memories and shares intriguing information about space people, anatomy and culture, and space technology, with detailed drawings of spacecraft and the beings who maneuver them.
ISBN 0-944851-26-6 December 2006
152 pages, paperback, illustrated
Autobiography and UFO $12.00
FOR
US ORDERS ONLY ...
You may also order the book by sending check or money order for $15.00 (postpaid) to:
EARTH STAR PUBLICATIONS - PO Box 267 - Eckert, CO 81418
Colorado residents please add 59 cents sales tax
FOREIGN ORDERS must include extra postage. If you are ordering from OUTSIDE the USA, order BELOW
NOW AVAILABLE as an ebook through AMAZON KINDLE for just $6.95
Also by Commander Sanni Ceto

STRANDED ON EARTH, THE STORY OF A ROSWELL CRASH SURVIVOR
Available from AMAZON.com
This page updated December 22, 2018
STAR BEACON
SUBJECT INDEX
2013 2012 2011
2010 2009 2008
2007 2006 2005
2004 2003 2002
2001 2000 1999
1998 1997 1996
1995 1994 1993
1992 1991 1990
1989 1988

Earth Star Books
Browse our Book Catalog to view all our books and publications.
Publishing Professional
Earth Star offers editing and production services for self-publishing authors, plus a lot more. You may inquire by contacting us at starbeacon@gmail.com
See all we offer in the way of publishing services. Check it out...
Psychic Readers Page
Our free directory lists intuitives ready to assist you... View Psychics Page...