Quado Meditation on Self-Love
recorded by Carrie Hart
Published by Systematique, Inc.
www.carriehart.com/meditations.htm
Carrie Hart, who channels Quado, has produced this very soothing meditation which clears away negative emotions and patterns and allows you to appreciate yourself right now, in all your perfection, just as you are.
My first experience with the CD was that it was a bit too relaxing... I fell asleep in the middle of it! But I made a point to try it again, when I wasn't tired, and found that it certainly does help you understand where you are (right where you should be!) and makes you ready to step right out and shine.
The meditation is available in both a MP3 download ($5) and CD ($10 in North America, or $14 outside the continent). You can listen to MP3 samples and get ordering information if you visit the Web site at www.carriehart.com/meditations.htm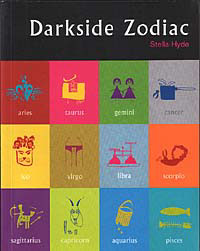 Darkside Zodiac by Stella Hyde
ISBN 1-57863-310-9
Weiser Books, June 2004, $19.95
Tired of those mundane, sugary-sweet daily horoscopes? Wouldn't you rather know the truth — why you are terrible at relationships, why you can't seem to hold down a good job, or why you're so alone and miserable?
Author Stella Hyde, who has penned two popular astrology series, says she's always felt the zodiac groupies get off too lightly. She thinks everyone ought to confront their evil twin. Hyde is a grudge-bearing Cancer, with Moon in Aquarius, living in the UK. She has written a new book, Darkside Zodiac, put out by Red Wheel/Weiser Books, that reveals the sneaky and neurotic sides of every zodiac sign in this extremely funny (but probably not everyone will think so!) book. Once you meet your evil zodiacal twin, you'll discover how easy it is to laugh at them.
Hyde writes for the seasoned astrologer and novice alike, and devotes a full chapter to each Zodiac sign, with each chapter delving into personality, planets, and the usual astrological stuff — but with a naughty twist — including sex, relationships, work, domestic life, crimes you're most likely to commit, etc. Browse through the "Hall of Infamy," a list of infamous people who share your secret evil side.
I know it's not nice to make fun of people, but perhaps my evil side if showing when I can't put this book down and across the room my co-workers hear me snicker and giggle.
For some much-needed comic relief (including some truth!), look for Darkside Zodiac in bookstores, or check out www.redwheelweiser.com.