GREETINGS, TERRANS!
CHECK OUT
WHAT'S NEW!

NEW!
READ TODAY'S BLOG


Order your copy of
THE LIGHT BEING

Welcome to Earth Star on the Web. Here you will find a wealth of articles on diverse topics including UFOs and extraterrestrials, the paranormal, healing, earth changes, spirituality, the latest sightings, channeling, astrology, book reviews, art, poetry, plus conference news and reports, and a whole lot more.
WHERE WOULD YOU
LIKE TO GO?


The Star Beacon: Earth Star's monthly paranormal newsletter. Subscription info can be found by clicking here.




BOOKS, T-SHIRTS, TAPES -- NEW!
Earth Star's Store features metaphysical, self-help, children's literature and adult fiction, plus original T-shirts and conference lecture tapes. Visit now by clicking here.





PSYCHIC READERS
The NEW Psychic Readers Directory lists Intuitive Counselors from all over. Check out who's doing what, and how to contact them, by clicking here.




THE BEST OF
THE BEACON
Selected articles which have appeared over the years in The Star Beacon
Click here.




CONFERENCES
Earth Star's annual Love and Light Conference. Also check out other conferences by clicking here.





FRIENDSHIP CLUB
Earth Star's Galaxy Wide Friendship Club is the place to find like-minded pen pals. Visit now by clicking here.





ART GALLERY
Earth Star's NEW Art Gallery features paintings by Ryan Ulrich plus an assortment of art (including extraterrestrial). Visit now by clicking here.





ARIZONA PAGE
Visit exotic and beautiful Why, Arizona. You can go there by clicking here.




MULES
Animal lovers will get a "kick" out of our Mule Page, featuring the Stucker Mesa Mules. Click here.


PUBLISHING
Earth Star Publications offers book packaging services for self-publishing authors, as well as a lot more. Please see our List of Services.
ADVERTISE HERE!
Advertise your wares or services here by placing an ad in The Star Beacon. To view CLASSIFIED ADS click here. For more information on advertising, e-mail us at UFOeditor@yahoo.com. For information regarding the Psychic Readers and Healers Directory, please e-mail earthstar@tripod.net.
Commander's Star Base

Ask an ET
from the December 2006 Star Beacon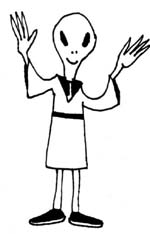 Q:
Someone I have known for a long time wanted to know some answers to some questions that have been puzzling him for a long time. Being he does not take The Star Beacon, I will send him the answers via a sample newsletter.
1. Did Solomon float these huge blocks down the river by levitation?
2. In the Hopi calendar, it is said that when the earth goes through the cleansing, a blue star will fall to earth and only burn half of the earth. Is this true? They say this will happen in 2100 or so.
3. Were the lion people on Earth before the Pleiadians, for he was saying he heard they were here over a billion years ago.
4. Who are the Jenny people? He was told they were Pleiadians.
5. Who were the Golden Goddess people?
6. He also said that he was told that it was too secret to talk about the Mantis beings, but you and I know that's not so.
7. What was the story about the splitting of the tre
e?
Julieaneaux
Commander Sanni:
1. Solomon was helped by a ship that used an antigravity device to move those blocks downriver.
2. Blue star is in reference to a rare type of meteorite or comet. The time would be around 2155 or so.
3. There was an ancient species of feline people that had to leave your Earth eons ago, but they arrived here after the Pleiadians did, through biogenetic research.
4. The Jenny people are really the Jennuiore star crystal people who are half Pleiadian and half Arcturian in origin, and they are assistants to the Pleiadians.
5. The Golden Goddesses were the Sun people who were a golden tan with blond hair and were a sub race of Meropian Pleiadians.
6. The mantis people aren't held to a code of any secrecy as he would want to think.
7. The splitting of a tree is in reference to different races of the family of man branching out and interbreeding with other specie, therefore causing a genetic gap or split away from Earth into outer space or other planetary genetics.


Namasté, Commander Sanni
If you have a question that is space-related to ask Sanni, send it in care of The Star Beacon, P.O. Box 117, Paonia CO 81428, or e-mail it to: earthstar@tripod.net. Be sure to put "Ask an ET" in the subject line.
Check out WHAT'S NEW

Subscribe to The Star Beacon


---
Copyright © 2006 Earth Star Publications
For permission to reprint articles or use graphics, e-mail earthstar@tripod.net.