GREETINGS, TERRANS!
CHECK OUT
WHAT'S NEW!

NEW!
READ TODAY'S BLOG


Order your copy of
THE LIGHT BEING

Welcome to Earth Star on the Web. Here you will find a wealth of articles on diverse topics including UFOs and extraterrestrials, the paranormal, healing, earth changes, spirituality, the latest sightings, channeling, astrology, book reviews, art, poetry, plus conference news and reports, and a whole lot more.
WHERE WOULD YOU
LIKE TO GO?


The Star Beacon: Earth Star's monthly paranormal newsletter. Subscription info can be found by clicking here.




BOOKS, T-SHIRTS, TAPES -- NEW!
Earth Star's Store features metaphysical, self-help, children's literature and adult fiction, plus original T-shirts and conference lecture tapes. Visit now by clicking here.





PSYCHIC READERS
The NEW Psychic Readers Directory lists Intuitive Counselors from all over. Check out who's doing what, and how to contact them, by clicking here.




THE BEST OF
THE BEACON
Selected articles which have appeared over the years in The Star Beacon
Click here.




CONFERENCES
Earth Star's annual Love and Light Conference. Also check out other conferences by clicking here.





FRIENDSHIP CLUB
Earth Star's Galaxy Wide Friendship Club is the place to find like-minded pen pals. Visit now by clicking here.





ART GALLERY
Earth Star's NEW Art Gallery features paintings by Ryan Ulrich plus an assortment of art (including extraterrestrial). Visit now by clicking here.





ARIZONA PAGE
Visit exotic and beautiful Why, Arizona. You can go there by clicking here.




MULES
Animal lovers will get a "kick" out of our Mule Page, featuring the Stucker Mesa Mules. Click here.


PUBLISHING
Earth Star Publications offers book packaging services for self-publishing authors, as well as a lot more. Please see our List of Services.
ADVERTISE HERE!
Advertise your wares or services here by placing an ad in The Star Beacon. To view CLASSIFIED ADS click here. For more information on advertising, e-mail us at UFOeditor@yahoo.com. For information regarding the Psychic Readers and Healers Directory, please e-mail earthstar@tripod.net.
Alpha Bits
from the March 2006 Star Beacon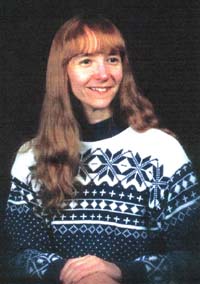 What is your Shadow Self?
by Tumeria
A popular catch phrase in spirituality and New Thought lately has been the "Shadow Self." Many books have been written and many workshops conducted in how to integrate the shadow self into your being. Another word for the shadow is the ego, or false self. The ego is based in fear, anger, attack, hatred and judgment. It is a product of incarnating on a planet of lower vibration and density. The ego is formed within us because of our forgetfulness and feelings of disconnection from our Source. It is not who we are and at the deepest level of truth, it is not even a part of what we are. It is a temporary "part" of us, the result of being in the physical body.
Because we forget our truth as spiritual beings, all we have to identify with while on Earth is our bodies. Many people believe that the body is who and what they are. Since bodies can be injured and even killed, we live in fear that we might be destroyed. We believe that we must do everything we can to protect our physical bodies. Self preservation is a very strong ego instinct. Our soul knows that there is no death. It is who we really are.
In truth, we are beings of Love, Light, joy and peace. We are eternal. We choose the physical experience in order to experience. Through our physical lives we gain knowledge, wisdom and growth. We are free to create whatever we wish, and we have the opportunity to know who we are experientially.
Integrating the shadow simply means accepting that the ego is part of the physical experience. When the shadow emerges, and it will emerge, it is important not to condemn yourself for it. Instead, look at it as an opportunity to see things from a higher perspective. Look at the shadow, acknowledge the shadow. See it for what it really is. Do not, however, identify yourself with it. It is your false self, not your true self. Once you look at your shadow and accept it, then you can choose not to come from it. When you shine your light, the shadow disappears into the illusion that it is.
When my ego rears its head, I try to catch it as soon as possible. Depending on the situation, it could be seconds, minutes, hours, days or even weeks. The time frame doesn't really matter. I say to myself "Wow, my ego really came forward that time!" I don't judge it or myself. I go into meditation and ask for guidance. I ask to see the situation from a higher point of view. I look for the lesson. I look for the blessing. If possible, I try to correct the situation, if I can. What I do not do is place myself into a guilt trip. Your ego wants you to feel guilty. Its voice inside your head will be loud and harsh. It will be unkind, condemning and full of judgment. It will tell you what a bad person you are. This is the ego's very nature. Give that voice no power. Instead, listen to the other voice within your being. It is often called "The Still Small Voice." That is the voice of truth. That is the voice of your soul. It is the voice telling you that you are a beloved Child of God.

Until next time, Namasté


Tumeria, a native of Alpha Centauri, currently lives in New Hampshire. Her earthly mission is to empower mankind and to help awaken humanity to its divinity. Tumeria is available for Akashic Record Readings, property clearing, spiritual advising and Reiki healings. You may contact her at: tumeria33@verizon.net or c/o The Star Beacon.
Visit The Alpha Centauri Connection Web site at http://Alpha-c-connection.tripod.com, and also Tumeria's discussion group at http://groups.yahoo. com/group/AC_connection/.
Check out WHAT'S NEW

Subscribe to The Star Beacon


---
Copyright © 2006 Earth Star Publications
For permission to reprint articles or use graphics, e-mail earthstar@tripod.net.