THE GROUND HOG MYSTERY
by Ann Carol Ulrich
Annette Vetter Adventure #6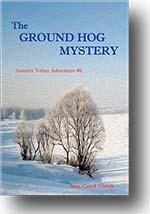 Everyone's tired of winter ... and hoping the ground hog does not see his shadow...
"We've got to alert the police," said Tim.
"Not so fast." A deep, husky voice called out to them from the shadows. B.J. and another, larger man stepped out and confronted Annette and Tim. The larger man had a black beard and wore a stocking hat. In his hand was a large switchblade which he thrust at them.
"She's the one got me into trouble," B.J. said in an agitated voice.
"Well, she's gonna be no trouble from now on," snarled the large man as he closed the distance between them.
The Valentines Dance (where the girls ask the boys) is coming up and Annette knows that Pete is expecting her to ask him, yet she wants to ask Penny's brother Tim instead.
Meanwhile, look out! -- livestock rustlers are in the area. Neighboring farmers are losing cattle, horses and even chickens! Also ...
Ruby's nightmares are growing worse, causing the Vetter family some concern. Stranger yet, her dreams seem to have this weird connection to a "Missing in Action" American pilot in Vietnam.
Annette is still enraptured with having a new brother and sister as she grows weary of an especially hard long winter in Wisconsin. Her infatuation for Tim Duncan has grown as her best friend Penny can no longer hide the fact that she and Annette's boyfriend Pete are hot for each other. But how can Annette, a mere sophomore, compete with all the more mature junior and senior girls at Ravensville High School who consider Tim a heart throb?
Order
THE GROUND HOG MYSTERY
You may also order the book by sending check or money order for $13.95 (postpaid) to:
EARTH STAR PUBLICATIONS
PO Box 267, Eckert CO 81418
Colorado residents please add 69 cents sales tax
---
You may also order the book directly from AMAZON
Get the eBook!
Amazon Kindle -- NOW AVAILABLE
The Ground Hog Mystery
EARTH STAR PUBLICATIONS
ISBN 978-0-944851-45-6 July 2016
YOUNG ADULT MYSTERY Retail $9.95

You can now purchase the Annette Vetter Gift Set, which includes the first 7 books in my series, at a reduced price with no shipping! Get all 7 for just $50. Check it out!
---
A NOTE ABOUT THE AUTHOR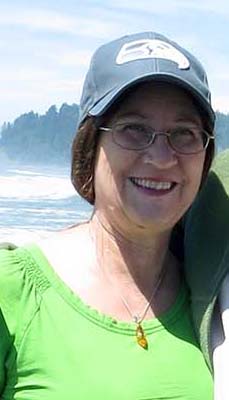 Ann Carol Ulrich (Ann Ulrich Miller) received her Bachelor of Arts degree in Creative Writing from Michigan State University. Originally from Monona, Wisconsin, her writing career began at age 15 with the sale of her first short story.
She is the author of the Annette Vetter Adventure series, plus an independent Young Adult novel, The Root Cellar Mystery.
She is the author of a Space Trilogy, which includes Intimate Abduction, Return To Terra, and The Light Being. She has also written a romance mystery, Night of the November Moon, and others under the name Ann Ulrich Miller, including her recent memoir, Stepping Forth, An American Girl Coming of Age in the 60s and her latest romantic suspense novel, THE DREAM CHASERS (2018). Her four previous Annette Vetter mysteries, as well as this one, are set in the 1960s.
Her favorite genre is romantic suspense. She writes novels for both adults and young people, with most of her writing reflecting her search for a higher purpose in life. Her spiritual autobiography, Throughout All Time, tells about her esoteric life with her husband and soul mate, and how she dealt with his passing.
Currently she resides in Western Colorado and is at work on her next Annette Vetter novel. Visit AnnUlrichMiller.com
---
Back to Earth Star's Home Page
View Links to Related Web Sites
This page updated December 21, 2018
What's New!
Greetings, Terrans! See the latest articles. Check out the current issue...


Earth Star Books
Browse our Book Catalog to view all our books and publications.
Publishing Professional
Earth Star offers editing and production services for self-publishing authors, plus a lot more. You may inquire by contacting us at starbeacon@gmail.com
See all we offer in the way of publishing services. Check it out...
Psychic Readers Page
Our free directory lists intuitives ready to assist you.. View Psychics Page...