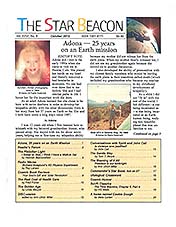 NEWEST RELEASE!
Romantic Suspense
SONATA SUMMER
by Ann Ulrich Miller
Read More!
Also available as an ebook
Just $5.00 at Amazon.com

Romantic Suspense
Novel about Light Workers
RAINBOW MAJESTY
By Ann Ulrich Miller

Order your copy today!
Click Here!
Now available as an ebook
Just $4.00 at Amazon.com

A Cosmic Love Story
THROUGHOUT ALL TIME
by Ann Ulrich Miller

Order your copy today!
Click Here!
True Stories from
Star Beings living on Earth
WE ARE AMONG
YOU ALREADY
by Jujuolui Kuita

Order your copy today!
Click Here!
Adona--25 years on an Earth Mission
by Adona
Adona chose to be born with nerve deafness in order to develop her telepathic ability with other dimensions..
The Gentle Way
by Tom T. Moore
Q & A with topics on winter weather, energies and the Fifth Focus, the upper Pacific West Coast and voting.

Sci-Fi Classics--The Time Machine
by HG Wells
Chapter 5a.
Radio Waves
by Ray Larsen
"Richard Hoaglund's HD Physics Experiment"
Reader's Forum
Letters from Readers
"Israeli lightworker troubled" by Anythony Altman; "Time to do our own thing" by Adona; "To those of you with a 'cause'" by Ambassador Julieanux.
DISC-ussion
by Ann Ulrich Miller
"Tribute to Neil Armstrong"; "Neil Armstrong's UFO Secret"; "Mind-boggling Mars Rover pictures" and "Burlington Vortex Conference Oct. 26-28."
Conversations with Spirit and John Cali
by John Cali
"Is violence ever justified?"
Cosmic Book Reviews
by Ann Ulrich Miller
'Your Soul's Gift' and 'Solar Revolution'
Your Soul's Gift, The Healing Power of the Life You Planned Before You Were Born by Robert Schwartz, and Solar Revolution: Why Mankind Is on the Cusp of an Evolutionary Leap by Dieter Broers
Cosmic Humor
An Irish tale
The Meaning of It All
Freedom is our birthright
by Ann Ulrich Miller
Commander's Star Base: Ask an ET
by Commander Sanni Ceto
Q & A about space.
Ufological Crossword
by Annie Miller
The Pleiadian Light
by Hannah Beaconsfield
"I Swear to God, I Think I Have a Walk-in Cat"
The Real Cost of Health Care
by Fred Pulver
Macrobiotics is the solution.
The Golden Age
through Linda Maupin
A message from Chandara to Star Beacon readers.
A horse named Cookie Dough
by Maia Corten
A spiritual children's tale.
Live in Paradise!
Homes for sale in southern Colorado
The October 2012 issue also contains humor, classified ads and other intriguing tidbits of information you won't want to miss.