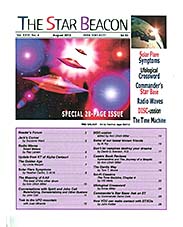 NEWEST RELEASE!
Romantic Suspense
SONATA SUMMER
by Ann Ulrich Miller
Read More!
Also available as an ebook
Just $5.00 at Amazon.com

Romantic Suspense
Novel about Light Workers
RAINBOW MAJESTY
By Ann Ulrich Miller

Order your copy today!
Click Here!
Now available as an ebook
Just $4.00 at Amazon.com

A Cosmic Love Story
THROUGHOUT ALL TIME
by Ann Ulrich Miller

Order your copy today!
Click Here!
True Stories from
Star Beings living on Earth
WE ARE AMONG
YOU ALREADY
by Jujuolui Kuita

Order your copy today!
Click Here!
Solar Flare Symptoms
by Heather Carlini, C.M.Ht.
Are you experiencing weird physiological and mental abnormalities? It might be due to solar flare activity.
The Gentle Way
by Tom T. Moore
Q & A with topics on the 2012 hurricane season, future of the IRS, changes in political systems and Dec. 21, 2012.

Sci-Fi Classics--The Time Machine
by HG Wells
Chapter Four.
Jack's Corner
by Suzanne Ward
Introduction to Jean Rockefeller's animal communicator Web site.
Radio Waves
by Ray Larsen
"Smart Meters"
Reader's Forum
Letters from Readers
"Contents of Willy's Backpack" by Willy Whitefeather; "Compassion for starving cats" by Irene Dickson; "Enjoyed shamanic tale" by Alana Lakota Star; "Bosnian Pyramids" by Lynnzie Sutton; "More pyramids in China" by Hartmut Jager; "Increaswe in UFO activity" by Cary Dickey; "Music is universal language" by Robert WhiteOwl, and "Protect against abductions" by Michael Guest.
Update from KT of Alpha Centauri
by KT from Alpha Centauri
Information on an upcoming solar event.

DISC-ussion
by Ann Ulrich Miller
"Gingrich says power grid vulnerable"; "The 'God particle' "; "Orb pictures continue to intrigue us" and "Our summer trip to the Pacific Northwest."
Conversations with Spirit and John Cali
by John Cali
"Materializing, Dematerializing and Other Illusions"
Cosmic Book Reviews
by Ann Ulrich Miller
Not your grandmother's Jesus...
hymnandme by Barbara Buck, and
The Journey of a Skeptic by Dan Gnos
Cosmic Humor
"Sky," a fashionable American bulldog
The Meaning of It All
The beat of the other drum
by Ann Ulrich Miller
Commander's Star Base: Ask an ET
by Commander Sanni Ceto
Q & A about space with topics on raising your energy, contact with aliens, human/ET origins and benevolent and malevolent beings.
Ufological Crossword
by Annie Miller
Trek to the UFO mountains
with Juan Miranda
A lifetime experience to see UFOs in Peru
Don't let vampires destroy your dreams
by David G. AZrenson, N.D.
Share your light, but be aware with whom.
The Golden Age
through Linda Maupin
A message from Chandara to Star Beacon readers.
Some of our lesser known friends
by Al Fry
Nature spirits abound.
How YOU can make contact with ET/EDs
by John Kettler
Live in Paradise!
For Sale By Owner
The August 2012 issue also contains humor, classified ads and other intriguing tidbits of information you won't want to miss.