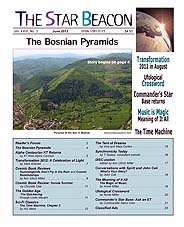 NEWEST RELEASE!
Annette Vetter is back...
in THE LEGEND OF
THE LANTERN
by Ann Carol Ulrich
See More!

Romantic Suspense
Novel about Light Workers
RAINBOW MAJESTY
By Ann Ulrich Miller

Order your copy today!
Click Here!
Now available as an ebook
Just $4.00 at Amazon.com

A Cosmic Love Story
THROUGHOUT ALL TIME
by Ann Ulrich Miller

Order your copy today!
Click Here!
True Stories from
Star Beings living on Earth
WE ARE AMONG
YOU ALREADY
by Jujuolui Kuita

Order your copy today!
Click Here!
The Bosnian Pyramids
by Tom T. Moore
Clarification on the recently discovered pyramids near Sarajevo.

Sci-Fi Classics--The Time Machine
by HG Wells
Chapter Three.
Transformation 2012: A Celebration of Light
The Institute of Light's upcoming conference Aug. 16-18 in Colorado.
Reader's Forum
Letters from Readers
"Extraordinary Knowing" by Dr. Leo Sprinkle; "The Chosen One" by Al Fry; "Misses Sanni's column" by Alana Lakota Star; "Called Home" by Ambassador Julieanux; "Continue the crossword" by Bella Martin, and "So much to learn" by Charlene Finkner.
Alpha Centaurian KT Returns
by KT from Alpha Centauri
Information on space travel.

DISC-ussion
by Ann Ulrich Miller
"A bird, a plane or a UFO?" "Urgent Call from Dr. Greer and the Disclosure Project" and "Arizona Orbs."
Conversations with Spirit and John Cali
by John Cali
"What's Your Story?"
Cosmic Book Reviews
A mother's heartbreaking journey to peace
by Ann Ulrich Miller
Hummingbirds Don't Fly in the Rain, by Kimberly Klein
Cosmic Relationships: Exploring the Soul's Journey from Off-Earth, Earth Lives, and Reincarnation, by Evelyn Fuqua
Cosmic Book Review
Aspen romance novel touches upon supernatural
by Chrystle Clae
Sonata Summer, by Ann Ulrich Miller
The Meaning of It All
The Magic of Music
by Ann Ulrich Miller
Commander's Star Base: Ask an ET
by Commander Sanni Ceto
Q & A returns about space life and travel.
Ufological Crossword
by Annie Miller
The Tent of Dreams
by Irina and Maia Corten
Neighbor children decide to camp out and journey to another planet.
The Golden Age
through Linda Maupin
A message from Chandara to Star Beacon readers.
Synchronicity Today
by T. Stokes
"Meaningful" coincidences.
Live in Paradise!
For Sale By Owner
The June 2012 issue also contains humor, classified ads and other intriguing tidbits of information you won't want to miss.