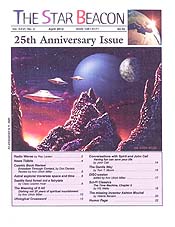 NEWEST RELEASE!
Annette Vetter is back...
in THE LEGEND OF
THE LANTERN
by Ann Carol Ulrich
See More!

Romantic Suspense
Novel about Light Workers
RAINBOW MAJESTY
By Ann Ulrich Miller

Order your copy today!
Click Here!
Now available as an ebook
Just $4.00 at Amazon.com

A Cosmic Love Story
THROUGHOUT ALL TIME
by Ann Ulrich Miller

Order your copy today!
Click Here!
True Stories from
Star Beings living on Earth
WE ARE AMONG
YOU ALREADY
by Jujuolui Kuita

Order your copy today!
Click Here!
Sci-Fi Classics--The Time Machine
by HG Wells
Chapter Two.
News Tidbits
Subscriber Louise Bowman will be missed; Lou Farish from Arkansas; and 'Cosmic School's' Nina Ansley remembered... plus upcoming conferences.
Astral explorer traverses space and time
by Ann Ulrich Miller
An interview with a woman who is an out-of-body/time traveler.

Seattle food forest not a fairytale
by Clare Leschin-Hoar
A paranormal experience from a former music student.
The Gentle Way
by Tom T. Moore
Big solar storm (CME); Gas prices, Phoenix Light, Breatharians and Israel vs. Iran.

DISC-ussion
by Ann Ulrich Miller
"Strange Metal Boxes," "Saturn's moon has oxygen" and "Russians claim life on Venus."
Conversations with Spirit and John Cali
by John Cali
"Having fun can save your life"
Cosmic Book Review
An important read on becoming a Cosmic Citizen
by Ann Ulrich Miller
Evolution Through Contact: Becoming a Cosmic Citizen, by Don Daniels
The Meaning of It All
Dishing out 25 years of spiritual nourishment
by Ann Ulrich Miller
Meeb-Beep's Misadventures
by Commander Sanni Ceto
Cartoon returns... along with other humor, including "It's a Dog's Life" and more.
Ufological Crossword
from February 1989's Star Beacon.
Radio Waves: Radiation vs. Radioactive Materials
by Ray Larsen
There is a difference between radiation and radioactive materials, a subject most people don't understand.
The missing inventor Ashton Mochel
by Valerie Benson
The writer's quest for a lost friend.
Live in Paradise!
For Sale By Owner
The April 2012 issue also contains classified ads and other intriguing tidbits of information you won't want to miss.