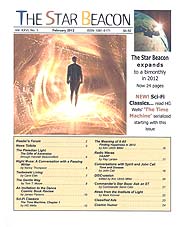 NEWEST RELEASE!
Annette Vetter is back...
in THE LEGEND OF
THE LANTERN
by Ann Carol Ulrich
See More!

Romantic Suspense
Novel about Light Workers
RAINBOW MAJESTY
By Ann Ulrich Miller

Order your copy today!
Click Here!
Now available as an ebook
Just $4.00 at Amazon.com

A Cosmic Love Story
THROUGHOUT ALL TIME
by Ann Ulrich Miller

Order your copy today!
Click Here!
True Stories from
Star Beings living on Earth
WE ARE AMONG
YOU ALREADY
by Jujuolui Kuita

Order your copy today!
Click Here!
Sci-Fi Classics--The Time Machine
by HG Wells
Chapter One.
Reader's Forum
by Barbara Huth and Ambassador Julieanux.
The Pleiadian Light--The Gifts of Ascension
through Hannah Beaconsfield
A channeling from the Pleiadian Light.

Night Muse: A Conversation with a Passing Writer
by Nancy Thompson
A paranormal experience from a former music student.
The Gentle Way
by Tom T. Moore
New Mexico experiments, financial outlook and more questions for Antura.

DISC-ussion
by Ann Ulrich Miller
"Second sun on its way" and "Some sun facts."
Conversations with Spirit and John Cali
by John Cali
"Time and Disease"
Cosmic Book Review
An Invitation to the Dance
by James Parsons
An Awaking to the Extended Human Family, by Stephen Jones
The Meaning of It All
Finding Happiness in 2012
by Ann Ulrich Miller
Commander's Star Base: Ask an ET
by Commander Sanni Ceto
Q & A with questions about ETs, global efforts to bring peace, and ascension.
Teotwawki Living
by Carol Elek
Starting your own 2012 Journal.
Radio Waves: HAARP
by Ray Larsen
Discussion about the "High Frequency Active Auroral Research Program."
News from the Institute of Light
by Mark Kimmel
News Tidbits
Star Being and Spiritual Center opens in Arizona
by Jujuolui Kuita

Live in Paradise!
For Sale By Owner
The February 2012 issue also contains cosmic humor, classified ads and other intriguing tidbits of information you won't want to miss.