A Different Kind of Book Catalog

featuring the works of

Ann Ulrich Miller
Memoirs
My first memoir about how I met and married my Special One is in Throughout All Time, which was published in May 2009, eight months after his passing.
It also delves into my personal quest for Truth and the road that would take me to where I am now. Esoteric subjects have always fascinated me, and even as a young girl I loved seeing TV shows and movies about space and unidentified flying objects. I had a love for anything that had a higher purpose and the idea of service to others.
Ethan came into my life at an inconvenient time, yet it was also the very right time. I enjoyed 19 years of my life with him and feel honored that I was privileged to know him, to experience so much with him, and grow spiritually and as a human woman on 3D Earth. Yes ... I'd do it all again.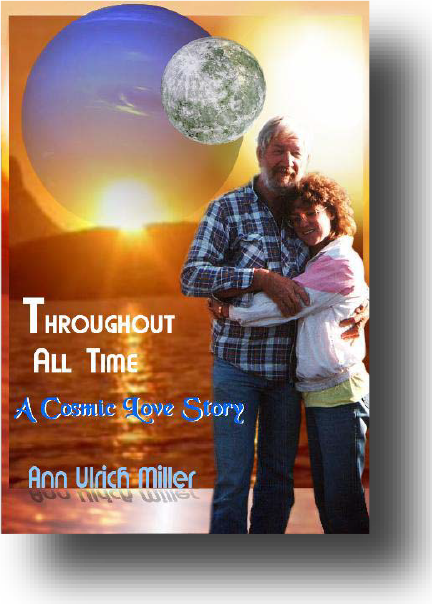 THROUGHOUT ALL TIME, A Cosmic Love Story
by Ann Ulrich Miller
She was married to her high school sweetheart and mother to three sons. She had given up searching for her
soul mate. But fate intervened. In her mid-30s, she was juggling two jobs, raising her kids and keeping her start-up publishing business going.

Ethan Miller was alone and retired, hoping for peace and solitude in whatever time he had left. He hadn't come to Colorado looking for a girlfriend. A freak Labor Day snowstorm kept him from pulling out with his travel trailer at McClure Pass.

He didn't realize that a black-and-white photo in newsprint would prompt him to travel 2,000 miles to meet her when he returned next summer. She had no idea the part it would play in the cosmic plan that would alter the course of both their lives.
Testimonials: "I guess death is never an easy thing to deal with. And I realize I had it pretty good in my experience. The end came quickly. I took advantage of my last chance to say goodbye. We both knew the score in our last verbal communication. Tears and 'I love you' made it picture perfect. And I was happy to be right there when they pronounced her dead. I recognized the common features with your experience. And I recognized that your road to Ethan's transition was longer and far rockier — and described so vividly. I'm so glad to have read this at this particular time." — RPJ (West Virginia)
"Congratulations on your new book. I just finished it. What an incredible story! I don't know how you survived all that stress. And at the same time baking bread and putting up fruits, growing vegetables and raising chickens. You must be the last of the breed of pioneer women who settled the country. I feel certain if I lived then, they would have dumped me off the wagon train and left me to the wolves because I couldn't carry my weight! I'm impressed by your strength." — HB (New York City)
"I laughed out loud about the nibbled underpants. And I'm still giggling." — AR (Streetsboro, Pa.)
Category: Metaphysical / Memoir ISBN 978-0-944851-29-6 Published May 2009, Paperback, 320 pages, Retail $17.00
---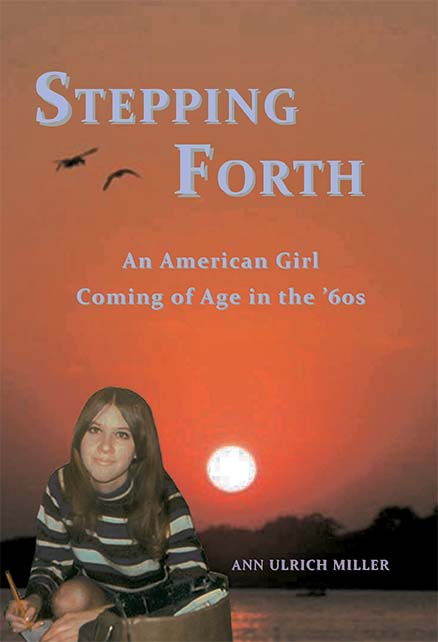 STEPPING FORTH, An American Girl Coming of Age in the '60s
by Ann Ulrich Miller
Nothing like a blast from the past ... this memoir was a lot of work and research, yet it was really fun to put together based on mountains of pages in diaries that I kept over the years.
It really brought me closer to my beginnings. I felt like I was once again with my parents, both of whom had passed and didn't get to read the book. Watching myself develop through those difficult teen-aged years gave me a better perspective on everything ... and everyone from my past.
I recommend this as excellent therapy. If you're a young person, think about keeping a journal and storing it away for the future. I guarantee you it will be a treat and will cause you to laugh and, more importantly, understand yourself and how you go to where you are now.
_________
Stepping Forth covers the years of the author's life when she was 13 through the time she married her high school sweetheart at the age of 20, in Monona, Wisconsin, a suburb of Madison. Ann Schumacher, as she was then known, was the third of six children in her family. Her father was Mayor of Monona, and she attended Monona Grove High School, graduating in 1970. She went on to attend Whitewater State University for her freshman year, then moved to East Lansing, Mich., to be with her fiance, Jeff Ulrich, and earn her Bachelor's Degree in English with a Creative Writing emphasis from Michigan State University. Decades later, she has put together this book (which includes art and photographs) of her adventures, thoughts, troubles, worries, friendships and secrets, not knowing at the time she would reveal all of these to the world almost 50 years later.
ISBN 978-0-944851-34-0 November 2012, Paperback, 48 pages (with Full Color photos) USD $12.00
---
produced by EARTH STAR PUBLICATIONS • P.O. Box 267 • Eckert, CO 81418 • email: starbeacon@gmail.com
email: starbeacon@gmail.com

CONTENTS
Return to Earth Star's Home Page
Copyright © 2021 Earth Star Publications • All rights reserved
Created by Web Dreams