GREETINGS, TERRANS!
CHECK OUT
WHAT'S NEW!

Recently Released!
THE SECRET OF THE GREEN PAINT

ZETI CHILD, LOST UPON A ONE STAR WORLD

ALL THE BAD STUFF COMES IN THREES

Welcome to Earth Star on the Web. Here you will find a wealth of articles on diverse topics including UFOs and extraterrestrials, the paranormal, healing, earth changes, spirituality, the latest sightings, channeling, astrology, book reviews, art, poetry, plus conference news and reports, and a whole lot more.
WHERE WOULD YOU
LIKE TO GO?


The Star Beacon: Earth Star's monthly paranormal newsletter. Subscription info can be found by clicking here.




BOOKS, T-SHIRTS, TAPES -- NEW!
Earth Star's Store features metaphysical, self-help, children's literature and adult fiction, plus original T-shirts and conference lecture tapes. Visit now by clicking here.





PSYCHIC READERS
The NEW Psychic Readers Directory lists Intuitive Counselors from all over. Check out who's doing what, and how to contact them, by clicking here.




THE BEST OF
THE BEACON
Selected articles which have appeared over the years in The Star Beacon
Click here.




CONFERENCES
Check out upcoming conferences by clicking here.





FRIENDSHIP CLUB
Earth Star's Galaxy Wide Friendship Club is the place to find like-minded pen pals. Visit now by clicking here.





ART GALLERY
Earth Star's NEW Art Gallery features paintings by Ryan Ulrich plus an assortment of art (including extraterrestrial). Visit now by clicking here.





ARIZONA PAGE
Visit exotic and beautiful Why, Arizona. You can go there by clicking here.




MULES
Animal lovers will get a "kick" out of our Mule Page, featuring the Stucker Mesa Mules. Click here.


PUBLISHING
Earth Star Publications offers book packaging services for self-publishing authors, as well as a lot more. Please see our List of Services.
ADVERTISE HERE!
Advertise your wares or services here by placing an ad in The Star Beacon. To view CLASSIFIED ADS click here. For more information on advertising, e-mail us at UFOeditor@yahoo.com. For information regarding the Psychic Readers and Healers Directory, please e-mail starbeacon@gmail.com
The Meaning of It All
PERSONAL PENDULUM PROPHECIES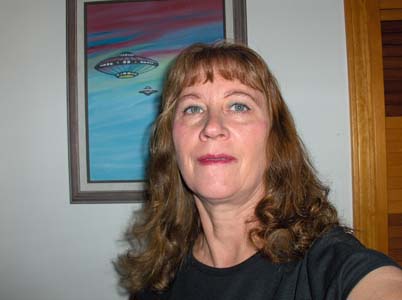 from the January 2008 Star Beacon

by Ann Ulrich Miller
Every year at this time, visionaries come forward with predictions and speculations about what lies ahead. Some of these are astrologically based, such as Mahalaís Planet Alert (see page 3). I have always enjoyed reading the January predictions, and like to consider what could possibly be in the future. I subscribe to the idea that we create our own realities, and believe that by ďseeingĒ ahead, itís possible to manifest that very thing, or to avert it, if necessary.
In the past year Iíve become better acquainted with my spirit guide, through the use of a pendulum. Through diligent practice, Iíve learned to place myself into a meditative frame of mind when I work with my pendulum, and Iíve received reassurance and guidance from the information.
Of course, there are times when Iíve gotten strange and unexpected answers to my questions, and then I tend to doubt that my spirit guide is being truthful, or if Iím even in communication with my spirit guide. Usually, I can tell if Iím not in the right frame of mind to be delving into such stuff. Iíll get an uncomfortable feeling, or Iíll be impatient or irritated. Thatís when I know Iím just wasting my time and need to go do something else.
You can learn to communicate with your guides, too, through a pendulum or a dowsing rod. It takes patience, practice, and some necessary ďalone time.Ē A year ago, I couldnít have done this, because my life was too hectic. Since Iíve become an Eastern recluse, and live a more peaceful, quiet life here in the woods of Ohio, Iíve been blessed with the opportunity to teach myself this form of communicating with another dimension.
Itís really easy to begin. First, you need to find a suitable pendulum, one that you can use solely for communication purposes. I keep a separate glass ball pendulum for chakra balancing, but my communication pendulum is a pure crystal, suspended on a nylon thread and composed of lithium crystals. This pendulum was obtained years ago from Fryís Incredible Inquirys (P.O. Box 76-2207, Garden Valley, ID 83622). It moves freely and possesses an energy that allows the free flow of communication between me and my spirit guide.
When starting out, you must first ask your pendulum how it is going to respond. At first, you will only be able to receive yes and no answers. My pendulum swings back and forth (north and south) in front of me when the answer is yes. It goes sideways (left and right) when saying no. If it swirls in a clockwise fashion, itís telling me, ďI donít know the answer,Ē and if it swirls counter-clockwise, it means ďI donít want to give you an answer right now.Ē
But the directions it makes are different for everyone. Your ďyesĒ might be clockwise, or your ďnoĒ might be back and forth, instead of sideways. You have to determine all that for yourself, before you begin.
After youíve established what the answers will be, you can start out by asking the pendulum simple questions. Always ask questions with a yes or no answer. Start out by asking questions you know the answer to, for instance: ďIs today my birthday?Ē or ďIs it raining outside?Ē
Eventually, you can ask it more complicated questions, such as things you might want to know that pertain to your life. Sometimes youíll get a false answer, and if you do, just shrug it off and realize that something may simply be interfering, or blocking you, or maybe youíre not supposed to know.
You can receive a lot of insight this way, and even though you canít rely 100 percent on the information you are given, you can keep asking the same questions at different times. After youíve become comfortable with the process, youíll feel more confident and may develop a familiar rapport with your spirit guide.
I am still amazed when things my spirit guide told me would happen come true. Iíve come to the point where Iím not satisfied with just yes and no answers, so I developed a method of using the pendulum to determine words, dates, and numbers.
I use a large piece of paper upon which Iíve drawn a large circle. Using a compass, I divided it into 26 sections and assigned each a letter of the alphabet. Now I can ask my spirit guide to spell out words for me. Iíve done the same thing with a circle on which Iíve divided the sections into months, and also numbers, so I can find out about time periods.
My spirit guide told me his name, and I received a possible date for the birth of my first grandchild.. The pendulum has told me it will be a girl, but I prefer to remain cautious and not count 100 percent on the answers I get. Itís hard to say how much could be attributed to ďwishful thinking.Ē Time will tell. When I tried to find out the name of my grandchild, the pendulum didnít know. That made sense, since Iím quite sure my son and his wife have not yet thought of names.
Anyway, I decided to play a game and ask my pendulum a few questions about what is going to happen in 2008. I asked the following questions, and got these answers, which may or may not be true. You might also ask these same questions.

1. Any major earth events or storms? (Yes)
2. Will the economy crash? (Yes)
3. Will ETs make their presence known? (Yes)
4. Will Bush/Cheney be impeached? (Yes)
5. Will the gasoline crisis escalate? (Yes)
6. Will gold price rise to $1,000 an ounce? (No)
7. Will gold price rise above $900? (Yes)
8. Will drought continue? (Yes)
9. Will major fires continue? (Yes)
10. Wind damage? (Yes)
11. A disaster in California? (Yes)
12. Earthquakes? (Yes)
13. Will lightworkers make a difference? (Yes)
14. Who will be nominated for president?
(Different answers came on different dates that I would ask this question, which might be attributed to the constantly changing wills of the American people! However, my most consistent answers were: Hilary Clinton, Huckabee, and Ron Paul, with Dennis Kucinich also showing a strong ďyesĒ at times.)
I also asked who will be the next president, and my spirit guide began to spell out ďA...L...Ē Thatís as far as I went with that!
Something helpful you can do is use your pendulum to determine which foods and supplements are beneficial to you. When in doubt about some left-over Iíve discovered hiding in the back of the refrigerator, Iíve used the pendulum to determine if it was fit to eat. If the pendulum gives a no, I immediately throw it out.
Itís interesting to test your food choices. I almost always get a ďnoĒ when I suspend my pendulum over a cup of coffee, yet I refuse to give it up. Iíve discovered supplements that apparently do me no good, according to the pendulum, and others that say yes, I need them.
The possibilities are endless. Just remember, you are the final judge, not the pendulum. God gave us free will, and it is our choice how to live. The pendulum is merely a tool to teach us how to listen to our inner guidance. If I had listened more closely to my intuition in the past, I might have avoided a lot of lifeís pitfalls. Some, of course, were necessary, for spiritual growth, and probably were meant to happen.
If you want to get better acquainted with your guides, I suggest getting a pendulum. It wouldnít hurt to also get yourself a chunk of Apache Tears, a black mineral rock that helps you get in touch with your guides. I hold my Apache Tears in my left hand while holding the pendulum with my right hand. Itís a start, and itís fun. Just remember to enter into a prayerful state and surround yourself with the Christ Light. If your intentions are good, youíll have benevolent results. Namastť.

Ann Ulrich Miller, editor of The Star Beacon, resides in southeastern Ohio. Her Space Trilogy novels are available at www.earthstarpublications.com/trilogy.html, and her latest novel, Rainbow Majesty, a mystery/suspense about lightworkers, will be out in 2008.
Check out WHAT'S NEW

Subscribe to The Star Beacon


---
Copyright © 2008 Earth Star Publications
For permission to reprint articles or use graphics, e-mail lightworker@earthstarpublications.com.