GREETINGS, TERRANS!
CHECK OUT
WHAT'S NEW!

NEW!
READ TODAY'S BLOG


Order your copy of
THE LIGHT BEING

Welcome to Earth Star on the Web. Here you will find a wealth of articles on diverse topics including UFOs and extraterrestrials, the paranormal, healing, earth changes, spirituality, the latest sightings, channeling, astrology, book reviews, art, poetry, plus conference news and reports, and a whole lot more.
WHERE WOULD YOU
LIKE TO GO?


The Star Beacon: Earth Star's monthly paranormal newsletter. Subscription info can be found by clicking here.




BOOKS, T-SHIRTS, TAPES -- NEW!
Earth Star's Store features metaphysical, self-help, children's literature and adult fiction, plus original T-shirts and conference lecture tapes. Visit now by clicking here.





PSYCHIC READERS
The NEW Psychic Readers Directory lists Intuitive Counselors from all over. Check out who's doing what, and how to contact them, by clicking here.




THE BEST OF
THE BEACON
Selected articles which have appeared over the years in The Star Beacon
Click here.




CONFERENCES
Earth Star's annual Love and Light Conference. Also check out other conferences by clicking here.





FRIENDSHIP CLUB
Earth Star's Galaxy Wide Friendship Club is the place to find like-minded pen pals. Visit now by clicking here.





ART GALLERY
Earth Star's NEW Art Gallery features paintings by Ryan Ulrich plus an assortment of art (including extraterrestrial). Visit now by clicking here.





ARIZONA PAGE
Visit exotic and beautiful Why, Arizona. You can go there by clicking here.




MULES
Animal lovers will get a "kick" out of our Mule Page, featuring the Stucker Mesa Mules. Click here.


PUBLISHING
Earth Star Publications offers book packaging services for self-publishing authors, as well as a lot more. Please see our List of Services.
ADVERTISE HERE!
Advertise your wares or services here by placing an ad in The Star Beacon. To view CLASSIFIED ADS click here. For more information on advertising, e-mail us at UFOeditor@yahoo.com. For information regarding the Psychic Readers and Healers Directory, please e-mail earthstar@tripod.net.
The Meaning of It All

from the February 2006 Star Beacon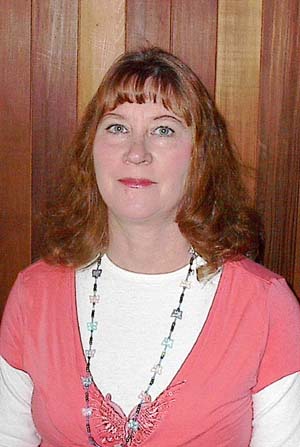 LIVING IN LOVE
Most people who are Lightworkers instinctively dwell in the Love state. They thrive in that vibration. To exist outside that vibration is uncomfortable ó even painful ó for them, especially if it is for any extended length of time.
That is why, I suppose, most Lightworkers cannot understand the insanity of war and killing and persecution of others. They cringe at scenes of violence, and are disgusted by the injustices imposed by our leaders on those who are weak, poor or disadvantaged.
Some of us who are Lightworkers are Star Seed, and weíve come here from places where we knew fairness, kindness, and where no one suffered from lack because someone else insisted on receiving a huge corporate bonus at the expense of workers low on the ladder of life, the very ones who helped build the foundation.
To find ourselves on a planet such as Earth, where there is so much imbalance, is a shock. I have never understood how people can treat their own kind so unjustly. Donít they realize what they are doing, how they are only hurting themselves?
Most of the time now, I feel the Love vibration surrounding me. It has become more intense and secure over the last few months. I feel perhaps there has been a dimensional shift that has occurred, or is occurring. Yet the Great Illusion is still in front of us, and I continue to get pulled back into it. At such times, I find myself falling out of Love, and fear takes hold. Or I allow myself to react to a psychic attack, and outside that Love vibration I become vulnerable.
It is too easy to buy into the game and take things in life personally. As a small example, I took it personally recently when I was turned down for something. I have a flock of Aracauna chickens and have enjoyed an abundance of eggs this winter. Most poultry growers must put up with few or no eggs during the dark months of winter, yet I was lucky. I was used to selling my eggs and always knowing I had buyers waiting for my eggs.
This past week, I walked into the local store and was told they werenít taking any more eggs, that suddenly other peopleís chickens were laying and the market was flooded. I left, disappointed, feeling as though Iíd been rejected. Were my eggs not good enough any more? This led to a pity party and the ridiculous thought that I was to blame. I was not living in Love.
I had to remind myself that I was taking this personally, so I let it go and jumped right back into Love. Now, instead of fretting over unsold eggs, Iím blessed with a big batch of boiled eggs and my favorite lunch, egg salad. And I know Iíll have customers coming to me next week, eager to buy my eggs.
Living in Love is not the best way of life, itís the only way. And you know when you have fallen out of it, because that is when fear creeps in, or envy, or anger rises. Your emotions are your barometer. When you feel unconditional Love for a person, or a situation, nothing can knock you down.
One of the hardest things Iíve found, while living in Love, is watching the evening television news. With all the conflict going on in the world, how can I feel Love? Yet that is exactly what will dissolve all the hurt, the killing, the injustice. When we react in anger and hostility toward conflict, we are feeding it and making it stronger. But when we refuse to react in that way, when we nurture our Love and use compassion, the disturbance cannot maintain itself. Universal Law says the dark must dissipate in the Light. Love creates Light.
The more we live in Love, the more we recognize the tests that the Universe throws our way. I donít know why Lightworkers are more vulnerable than others, but it seems we are more sensitive, more attractive to the dark side that wants to defeat us. Iíve had challenges in the past few years like Iíve never had before. Iím sure Iím not alone. But I'm learning not to lash out in revenge, but to stare back at my opponent, without fear, and with forgiveness and kindness. That is when I see there was really nothing there that could harm me in the first place.
The Love shield surrounds me, as it does you. We only need to recognize it and accept it. We are in the Ascension now, and it feels truly marvelous.

Ann Ulrich Miller is publisher of The Star Beacon and author of the Space Trilogy: Intimate Abduction, Return To Terra and The Light Being, available through Earth Star Publications at http://earthstar.tripod.com/trilogy.html.
Check out WHAT'S NEW

Subscribe to The Star Beacon


---
Copyright © 2005 Earth Star Publications
For permission to reprint articles or use graphics, e-mail earthstar@tripod.net.