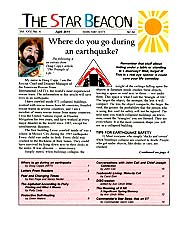 NEWEST RELEASE!
Romantic Suspense
Novel about Light Workers
RAINBOW MAJESTY
By Ann Ulrich Miller

Order your copy today!
Click Here!
Now available as an ebook
Just $4.00 at Amazon.com
Recent Releases...
A Cosmic Love Story
THROUGHOUT ALL TIME
by Ann Ulrich Miller

Order your copy today!
Click Here!
True Stories from
Star Beings living on Earth
WE ARE AMONG
YOU ALREADY
by Jujuolui Kuita

Order your copy today!
Click Here!
Where do you go during an earthquake?
by Doug Copp
Excerpt from his article, "The Triangle of Life," with important tips for earthquake safety.
Fear and Changing Times
by Ken Page and Nancy Nester
from their October 2010 Heart and Soul Healing.
Perspective on disaster from a reader in Japan
letter by Michael Perrine (in Osaka).

Conversations With Chief Joseph and John Cali
Connection
by John Cali
Transcending the illusion of being separate and alone..
The Alphabet According to Polly:
Printing and what it means for you and the people you know
by Polly Cady

The Meaning of It All: "A Significant Spring Memory"
by Ann Ulrich Miller
Chapter 22 excerpt from her autobiography, Throughout All Time..
Teotwawki Living
by Carol Elek
"Wake-up Call"
DISC-ussion
edited by Ann Ulrich Miller
"Japan disc UFO filmed near volcano after tsunami" and "More on the Jerusalem Dome of the Rock UFO."
Commander's Star Base: Ask an ET
Q & A. Commander Sanni answers a reader's question about his past life as a Zeta Reticulan.

Protective Self-Healing
by Owen Waters
You have the power to protect yourself from radiation hazards and all types of epidemics.
The April 2011 issue also contains classified ads, upcoming conferences, and other intriguing tidbits of information you won't want to miss.