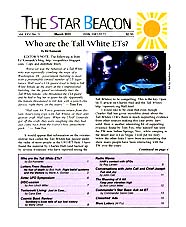 NEWEST RELEASE!
Romantic Suspense
Novel about Light Workers
RAINBOW MAJESTY
By Ann Ulrich Miller

Order your copy today!
Click Here!
Recent Releases...
A Cosmic Love Story
THROUGHOUT ALL TIME
by Ann Ulrich Miller

Order your copy today!
Click Here!
True Stories from
Star Beings living on Earth
WE ARE AMONG
YOU ALREADY
by Jujuolui Kuita

Order your copy today!
Click Here!
Who are the Tall White ETs?
by Ed Komarek
From Aileen Garroute's blog, UFOs et al, on Charles Hall's writings on the "Tall Whites."
No fear of death, therefore no fear of life
letter by Bob Huth
Rigid belief system and the Visitors
letter by Marie A. Gomez.

Conversations With Chief Joseph and John Cali
Fun and Joy
by John Cali
Finding joy in even the most awful experiences.
Aztec UFO Symposium
Plus... Alamo UFO Conference, Ozark UFO Conference and more....
Cosmic Book Review
by Marty Ulrich
Egypt--An Extraterrestrial and Time Traveler Experiment by Dr. Bruce Goldberg.
The Meaning of It All: "Keep your vibration high"
by Ann Ulrich Miller
Coping with the mind-blowing events in 2011.
Teotwawki Living
by Carol Elek
"Just in Case..."
DISC-ussion
edited by Ann Ulrich Miller
"Jerusalem UFO videos captured from four directions"; "Reader's sightings."
Commander's Star Base: Ask an ET
Q & A. Commander Sanni answers a reader's question about his past life as a Zeta Reticulan.

HAM's Contact with UFOs
by Ray Larsen
"Radio Waves" columnist explores HAM radio contact with extraterrestrials.
The March 2011 issue also contains classified ads, upcoming conferences, and other intriguing tidbits of information you won't want to miss.