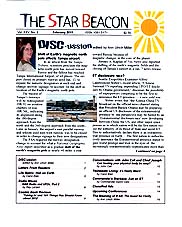 NEWEST RELEASE!
Romantic Suspense
Novel about Light Workers
RAINBOW MAJESTY
By Ann Ulrich Miller

Order your copy today!
Click Here!
Recent Releases...
A Cosmic Love Story
THROUGHOUT ALL TIME
by Ann Ulrich Miller

Order your copy today!
Click Here!
True Stories from
Star Beings living on Earth
WE ARE AMONG
YOU ALREADY
by Jujuolui Kuita

Order your copy today!
Click Here!
DISC-ussion
by Ann Ulrich Miller
Shift of Earth's magnetic north pole; ET disclosure race? and Loose lips sink ships and 747s too.
Kathleen Marden's remarks about Stan Romanek, abductee
In a Letter to the Editor, Kathleen Marden comments on abductee Stan Romanek and his controversial case.
The value of quantum physics
In another Letter to the Editor, Michael Guest explains science and the soul.

Conversations With Chief Joseph and John Cali
Can healing your physical body be easy?
by John Cali
The old axiom, "Time heals all wounds," is not necessarily true.
Life in the Matrix: Hell on Earth
by Carol Elek
Larry Harris, founder of Transformational Energy Institute, has an exciting radio program.
Cosmic Book Reviews
by Ann Ulrich Miller
Tuning In: A Journalist, 6 Trance Channelers & Messages from the Other Side, plus 101 Things You Should Know About 2012
The Meaning of It All: "The Quest for Clarity"
by Ann Ulrich Miller
Gaining clarity means getting some perspective.
Teotwawki Living
by Carol Elek
"It's Really Weird"
Commander's Star Base: Ask an ET
Q & A. Commander Sanni answers questions about the black race and an assortment of questions from Wagner.

HAM Radio and UFOs, Part 2
by Ray Larsen
"Radio Waves" columnist explores more about amateur radio and astronomy.
Upcoming Conferences
2011 UFO Congress, Ozark UFO Conference, and Crop Circle Tour with Barbara Lamb in July.
The February 2011 issue also contains classified ads, upcoming conferences, and other intriguing tidbits of information you won't want to miss.