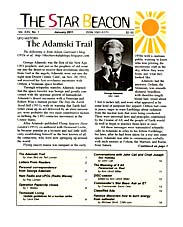 NEWEST RELEASE!
Romantic Suspense
Novel about Light Workers
RAINBOW MAJESTY
By Ann Ulrich Miller

Order your copy today!
Click Here!
Recent Releases...
A Cosmic Love Story
THROUGHOUT ALL TIME
by Ann Ulrich Miller

Order your copy today!
Click Here!
True Stories from
Star Beings living on Earth
WE ARE AMONG
YOU ALREADY
by Jujuolui Kuita

Order your copy today!
Click Here!
The Adamski Trail
by Joan Bird via Ted Loman
A bit of UFO history from Aileen Garroute's blog, UFOs et al.
Letters from Readers
by Maggie Murane, Hartmut Jager, Bob Huth, Sara/Amb. Julieanux and other subscribers
Praise for Marie Gomez's articles on 'High Magic,' plus other comments on the December issue.
Personal correspondence from George Adamski
Late TSB columnist Julian Joyce had a letter from George Adamski among estate papers.

Conversations With Chief Joseph and John Cali
Doc Holliday
by John Cali
Doc Holliday, a fearful and deadly gunfighter from the Old West is a role model to us today.
DISC-ussion
edited by Ann Ulrich Miller
Obama to make UFO announcement soon; New Mexico 'Cloud'; CNN reports Israeli Air Force shot down UFO; New Zealand releases UFO gov't files.
Operation Paperclip closes
by T. Stokes
Konrad Dannenberg and other German scientists involved in rock propulsion pioneering work..
The Meaning of It All: "Paranormal vs. Real"
by Ann Ulrich Miller
What is 'paranormal' and what is 'real'?.
Teotwawki LivingM
by Carol Elek
"Update Guidelines for a nuclear strike".
Commander's Star Base: Ask an ET
Q & A. Commander Sanni answers questions about a subscriber's newborn grandson and triangular UFOs.

HAM Radio and UFOs
by Ray Larsen
"Radio Waves" columnist informs us about the benefits of amateur radio in an uncertain world.
Kanzius discovers how to burn energy from saltwater
by Michael Stroh (CNN)
Reprinted article on John Kanzius, inventory..
The January 2011 issue also contains classified ads, upcoming events, and other intriguing tidbits of information you won't want to miss.