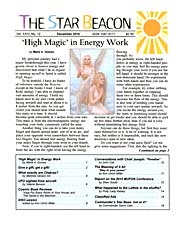 NEWEST RELEASE!
Romantic Suspense
Novel about Light Workers
RAINBOW MAJESTY
By Ann Ulrich Miller

Order your copy today!
Click Here!
Recent Releases...
A Cosmic Love Story
THROUGHOUT ALL TIME
by Ann Ulrich Miller

Order your copy today!
Click Here!
True Stories from
Star Beings living on Earth
WE ARE AMONG
YOU ALREADY
by Jujuolui Kuita

Order your copy today!
Click Here!
'High Magic' in Energy Work
by Marie A. Gomez
A woman's personal journey in opening herself to Spirit.
What exactly are Chakras?
by Melinda Iverson Inn
A description of the seven energy centers located at specific points on the physical body.
Letter from readers
"UFO sighted from aircraft" by Valerie Benson

Conversations With Chief Joseph and John Cali
Paradise
by John Cali
Many folks define paradise as where they wish they lived -- what does the word mean to you?
DISC-ussion
edited by Ann Ulrich Miller
Blublocker sunglasses help see UFOs; Iwo Jima UFO during WWII;UFO dives into reservoir; World leaders briefed on UFO battle near Earth; Zecharia Sitchin makes his transition.
Report on the 2010 MUFON Conference
by Sheri Gould
The Oct. 16-17 UFO conference in Kecksburg, Pa..
The Meaning of It All: "Stay in your power"
by Ann Ulrich Miller
Ways to stay in the moment and in your power when life starts getting dismal.
Cosmic Book Reviews: Yoga For Every Room in Your House and The Genie in the Machine
Reviewed by Marty Ulrich.
Commander's Star Base: Ask an ET
Commander Sanni answers questions about Tesla and the Philadelphia Experiment, and close encounters in 2012.

What happened to the Lefties in the shuffle?
by Polly Cady Kelsey
A handwriting analyst gives enlightening information on people who are left-handed.
The December 2010 issue also contains classified ads, upcoming events, and other intriguing tidbits of information you won't want to miss.