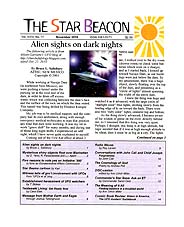 NEWEST RELEASE!
Romantic Suspense
Novel about Light Workers
RAINBOW MAJESTY
By Ann Ulrich Miller

Order your copy today!
Click Here!
Recent Releases...
A Cosmic Love Story
THROUGHOUT ALL TIME
by Ann Ulrich Miller

Order your copy today!
Click Here!
True Stories from
Star Beings living on Earth
WE ARE AMONG
YOU ALREADY
by Jujuolui Kuita

Order your copy today!
Click Here!
Alien sights on dark nights
by Bruce L. Salisbury
A worker at Navajo Dam in NW New Mexico reports UFO floating over the top of the dam.

Mysterious shiny objects float over Manhattan
by O. Yaniv, R. Parascandola and L.I. Alpert
Vivid and unusual photos of unidentified objects from Washington state.

Letter from readers
"For those living alone" by Sara Hockenbery

Radio Waves
by Ray Larsen
A new column exploring radio programs of interest.

Conversations With Chief Joseph and John Cali
Forgiveness
by John Cali
Do you find it hard to forgive someone who has hurt you? Or perhaps even to forgive yourself?

Five reasons to vote yes on Initiative '300'
The attempt to form an Extraterrestroa; Affairs Commission in Denver, Colo..

Message from Mother Earth and Eagle
through Joshua Talkinghawk
A new day is dawning.

DISC-ussion
edited by Ann Ulrich Miller
Maryland deer camera captures unknown light beam; NASA, JPL scientists endorse Billy Meier photos; Space Trilogy novels now available as ebooks.

Witness tells of gov't involvement with UFOs
from "UFOs et al" blog
Transcription from Coast to Coast broadcast Oct. 18, 2010.

The Meaning of It All: Finding balance in a troubled world
by Ann Ulrich Miller
The focus on making ourselves happy and at peace is the key to finding balance in the midst of challenges.

Cosmic Book Review: Aliens in America
The UFO Hunters guidebook, Aliens in America, by William J. Birnes, publisher of UFO Magazine.

Commander's Star Base: Ask an ET
Commander Sanni answers questions about guides and angels, the Great Serpent Mound in Ohio, and real UFOs as opposed to holographic projections.


Teotwawki Living: Get Ready Now
by Carol Elek
There's no time to waste.

The Cosmology of God
Poetry by Andrew Pell

New Cartoon: Star Beams
by Kari
A couple of teen-agers headed for trouble.

Establishment harassment of UFO watchers
by T Stokes
Never turn UFO photos over to so-called "authorities" who come knocking at your door.

The November 2010 issue

also contains classified ads, upcoming events, and other intriguing tidbits of information you won't want to miss.