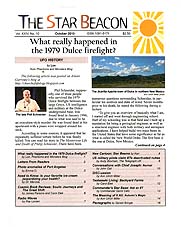 NEWEST RELEASE!
Romantic Suspense
Novel about Light Workers
RAINBOW MAJESTY
By Ann Ulrich Miller

Order your copy today!
Click Here!
Recent Releases...
A Cosmic Love Story
THROUGHOUT ALL TIME
by Ann Ulrich Miller

Order your copy today!
Click Here!
True Stories from
Star Beings living on Earth
WE ARE AMONG
YOU ALREADY
by Jujuolui Kuita

Order your copy today!
Click Here!
What really happened in the 1979 Dulce firefight?
by Lon
Phil Schneider's questionable report about the human/ET conflict in the alleged underground base in northern New Mexico.

Photo anomalies of Port Angeles
by Emma O
Vivid and unusual photos of unidentified objects from Washington state.

Letter from readers
"Wendelle Steven's passing" by Sheri Gould, and "Be ever watchful and ready" by Sara Hockenbery

Radio Waves
by Ray Larsen
A new column exploring radio programs of interest.

Conversations With Chief Joseph and John Cali
Normal
by John Cali
Take a simple break from it now and then.

DISC-ussion
edited by Ann Ulrich Miller
Kecksburg UFO of German origin? Lt. Col. Wendelle Stevens makes his transition; Deathbed confession by Lockheed CEO claims ETs/UFOs are real, and Judy Horky's Soul Shift 2012 and Beyond out soon.

US military pilots claims ETs deactivated nukes
by Andy Bloxham, The Telegraph UK
Report dated Sept. 27, 2010.

The Meaning of It All: Autumn's Magic
by Ann Ulrich Miller
On the first day of fall the editor and her special friend go on a leisurely drive through Colorado's mountains.

Cosmic Book Reviews: Soulic Journeys, and The Great Shift
by James Parsons and Carol Elek
Parsons reviews Douglas Taylor's Soulic Journeys, A Visionary Guide to Spiritual Enlightenment, and Carol Elek reviews The Great Shift by Lee Carroll, Kryon, Patricia Cori and Martine Vallee.

Commander's Star Base: Ask an ET
Commander Sanni is back with questions about the Moon. Included is a chapter from her book Zeti Child!


Teotwawki Living: Backyard Farms
by Carol Elek
Due to the economy and fear of the future, people are growing their own food in their backyards.

New Cartoon: Star Beams
by Kari
A couple of teen-agers headed for trouble.

Pectagraphs
by Gerald Bringle
Some interesting photos taken in Colorado's San Miguel County.

The October 2010 issue

also contains classified ads, upcoming events, and other intriguing tidbits of information you won't want to miss.