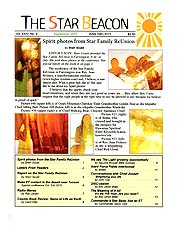 NEWEST RELEASE!
Romantic Suspense
Novel about Light Workers
RAINBOW MAJESTY
By Ann Ulrich Miller

Order your copy today!
Click Here!
Recent Releases...
A Cosmic Love Story
THROUGHOUT ALL TIME
by Ann Ulrich Miller

Order your copy today!
Click Here!
True Stories from
Star Beings living on Earth
WE ARE AMONG
YOU ALREADY
by Jujuolui Kuita

Order your copy today!
Click Here!
Spirit photos from Star Family Re-Union
by Sheri Gould
Amazing photos show spirits around the speakers at the July Star Family conference in New Mexico.

Letter from readers
"Another Urgent Message" from a commander

RADIO WAVES
by Ray Larsen
A new column exploring radio programs of interest.

Conversations With Chief Joseph and John Cali
Simplifying Your Life
by John Cali
Take a simple break from it now and then.

DISC-ussion
edited by Ann Ulrich Miller
Moon emissions; Brazil UFOs; Wyoming UFO photo, and Ella O'Kelly makes her transition..

Report on the Star Family Re-Union
by Sheri Gould
July 9-11, 2010 conference report in Farmington, N.M.

The Meaning of It All: It's the 11th hour... are you ready?
by Ann Ulrich Miller
Community groups are forming to help people cope with upcoming changes.

Cosmic Book Review: The Game of Life on Earth
by Carol Elek
"Life on Earth: The Game" by Randall Shelton.

Commander's Star Base: Ask an ET
Commander Sanni is back with questions about the Moon.


We see The Light growing exponentially
by SaLuSa
Mike Quinsey channels an encouraging report about ascension.

Alert! Force Fields Interlocked
by Motah
A channeling from the Motah Chronicles.

The September 2010 issue

also contains classified ads, upcoming events, and other intriguing tidbits of information you won't want to miss.