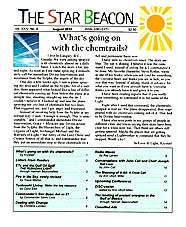 NEWEST RELEASE!
Romantic Suspense
Novel about Light Workers
RAINBOW MAJESTY
By Ann Ulrich Miller

Order your copy today!
Click Here!
Recent Releases...
A Cosmic Love Story
THROUGHOUT ALL TIME
by Ann Ulrich Miller

Order your copy today!
Click Here!
True Stories from
Star Beings living on Earth
WE ARE AMONG
YOU ALREADY
by Jujuolui Kuita

Order your copy today!
Click Here!
What's going on with the chemtrails?
by Krystael
Suddenly, there are no chemtrails. What happened?

Letter from readers
"Recommended reading" by Dr. R. Leo Sprinkle, and "Urgent words from a commanded" plus "Encouragement."

RADIO WAVES
by Ray Larsen
A new column exploring radio programs of interest.

Conversations With Chief Joseph and John Cali
Self Love
by John Cali
Joseph discusses the intense energies and feelings in our physical bodies these days.

DISC-ussion
edited by Ann Ulrich Miller
Ufologist John Keel remembered; Illinois Depiction of Orbs.

Dealing with Change
by Christina Lunden
We are seeing many changes as we strive for Ascension..

The Meaning of It All: A Close Call
by Ann Ulrich Miller
Emergency surgery prompts the editor into thinking about life and the experience of being human on a cosmic level.

Teotwawki Living
by Carol Elek
"Water, the Key Resource for Survival."

Commander's Star Base: Ask an ET
Commander Sanni is back with questions about chemtrails and the base on the Moon.


ETs and the Gulf Oil Spill
by Hannah Beaconsfield
The Pleiadian Light offers information on the oil leak in the Gulf of Mexico, with an additional article on "The meeting of ancient energies in the Gulf of Mexico."

Fire in the Sky, newly revised
An updated copy of the popular UFO book made into a movie by Travis Walton.

The August 2010 issue

also contains classified ads, upcoming events, and other intriguing tidbits of information you won't want to miss.