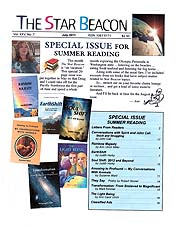 NEWEST RELEASE!
Romantic Suspense
Novel about Light Workers
RAINBOW MAJESTY
By Ann Ulrich Miller

Order your copy today!
Click Here!
Now available as an ebook
Just $4.00 at Amazon.com
Recent Releases...
A Cosmic Love Story
THROUGHOUT ALL TIME
by Ann Ulrich Miller

Order your copy today!
Click Here!
True Stories from
Star Beings living on Earth
WE ARE AMONG
YOU ALREADY
by Jujuolui Kuita

Order your copy today!
Click Here!
Special issue for summer reading
by Ann Ulrich Miller
Off on a month-long vacation to the Pacific Northwest, the editor has selected book excerpts from metaphysical authors for your reading pleasure.
Rainbow Majesty
by Ann Ulrich Miller
From Chapter 6... Juniper Sutton, from Kansas, has agreed to run the gift shop for her Aunt Rosalee at the Rainbow Majestic Lodge in Colorado. She has only been at the healing center a few days but has easily made friends with the light workers.
Earth Shift
by Judith Horky
From Chapter 3... Julie Armstrong anxiously awaits the arrival of her family at Windancer Ranch. The world is falling apart as they all realize the time has come... the Shift is happening.

Conversations With Spirit and John Cali
Stuck and Struggling
by John Cali
Have you ever felt like you were going nowhere in your life? Although you might get out of the occasional stuck places much more easily and quickly, you don't have to stay stuck.
Soul Shift: 2012 and Beyond
by Judith Horky
An excerpt from Chapter One of EarthShift's sequel.
Amusing to Profound: My Conversations with Animals
by Suzanne Ward
From the chapter titled "Fruity"... Suzanne Ward developed the ability to "mind-talk" with animals. Her remarkable conversations include the following excerpts from this amusing chapter in her book.
Transformation: From Enslaved to Magnificent
by Mark Kimmel
Editor's note from the ebook channeled by Mark Kimmel of Cosmic Paradigm.
The Light Being
by Ann Carol Ulrich
From Chapter 20... Teen-aged Blake Dobbs, son of Manley and Dorothy Dobbs, is on board the New Jerusalem stationed near Earth. He and his sister were rescued by the Light Being when chaos broke out on the planet's surface during the arrival of the Photon Belt.

They Say
Poetry by Robert Stommel
The July 2011 issue also contains classified ads and other intriguing tidbits of information you won't want to miss.