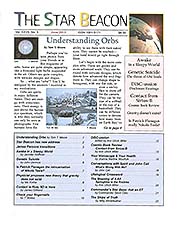 NEW RELEASES!
A Dog Named Ranger
$12.00
ORDER NOW!
Also available as an ebook
Just $3.99 at Amazon.com
Romantic Suspense
SONATA SUMMER
by Ann Ulrich Miller
Read More!
Also available as an ebook
Just $5.00 at Amazon.com

Romantic Suspense
Novel about Light Workers
RAINBOW MAJESTY
By Ann Ulrich Miller

Order your copy today!
Click Here!
Now available as an ebook
Just $4.00 at Amazon.com

A Cosmic Love Story
THROUGHOUT ALL TIME
by Ann Ulrich Miller

Order your copy today!
Click Here!
True Stories from
Star Beings living on Earth
WE ARE AMONG
YOU ALREADY
by Jujuolui Kuita

Order your copy today!
Click Here!
Understanding Orbs
by Tom T. Moore
Orbs are energy with consciousness.
The Star Beacon has a new address
195 Sundown Circle
Pagosa Springs CO 81147

James Parsons transitions
News Tidbits
We sadly say goodbye to author and Star Beacon contributor James Parsons.
Awake in a Sleepy World
by Jennifer Hoffman
Indigos and Crystals were born awake and wish to make a difference in the world.
DISC-ussion
edited by Ann Ulrich Miller
"Citizens' hearings on disclosure"; "Congresswoman Kilpatrick praises testimony"; "Sen. Mike Gravel says White House is hiding UFO evidence"; "Visitors from Outer Space - Real or Note - are focus of discussion in Hearing Testimony."
Conversations with Spirit and John Cali
by John Cali
"What's wrong with me?"
Cosmic Book Review
by Ann Ulrich Miller
Permutation, A True UFO Story by Shirlč Klein-Carsh and Ann Carol Ulrich.

Genetic Suicide
by John Dermus
The tragedy of corporations profiting by Geneticially Modified foods and seeds and the damage to livestock and health.
Check your fingernails
by T. Stokes (Palmist)
Don't overlook the importance of your fingernails in regards to your health.
Your Horoscope & Your Health
by Joanna Martine Woolfolk
Advice on health for each sign of the zodiac
The Meaning of It All
Springtime in the Rockies
by Ann Ulrich Miller
Commander's Star Base: Ask an ET
by Commander Sanni Ceto
Q & A about space.
Ufological Crossword
by Annie Miller
Is Patrick Flanagan the reincarnation of Nikola Tesla?
Sterling D. Allan, CEO of Pure Energy Systems Inc., considers it likely!
Physicist proposes new theory that gravity does not exist
by Mo Xinhai
Contact is Now, 5D is Here
by James Gilliland
The Ships of Truth
by Willy Whitefeather
Interpretation of Willy's recent vision

Live in Paradise!
Home for sale in southern Colorado
The May 2013 issue also contains humor, classified ads and other intriguing tidbits of information you won't want to miss.