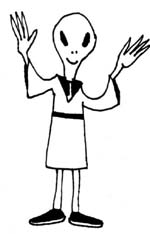 from the April 2009 Star Beacon
By Commander Sanni Ceto

Q: Dear Commander,
Do your people have "phase technology," the ability to pass or "phase" through solid matter? If so how is it done?
Sincerely, Capt. Stacey

A: Dear Capt. Stacey,
Phase technology is very ancient on our home worlds as we have had this for many eons. Phase technology is rearranging an object's material to allow it to blend and merge with a background which permits the cells to become as one, allowing the object to be sent from one area to another as their frequencies are compatible. Once an object has passed to where it's being sent, its structure reappears in its unaltered form. When an object goes through a wall, the region that it goes through is changed to either a gaseous state or a vapor like or watery like mist, as well as the object itself. This allows a free movement of both substances as they are acting as a single structure. When it is on that other side, the passer returns as solid with no harm done to it. Phase technology was given to my people by the ancient Pleiadians as well as their relatives who are the Lyrans and Tall Whites.
Namasté, Commander Sanni

Q: Dear Commander,
Every day humans "come up" with new technological wonders, from cell phones to high definition displays. I know that the items have been reverse engineered. Are the items given by your people, or were they stolen by us? Thank you.
Love, Capt. Stacey
A: Dear Capt. Stacey,
Much of your current technology was reverse engineered from stolen technology while only little snippets were given to your nations via treaties and exchange programs with the recipient either violating the terms of this trade or exchange.
Namasté, Commander Sanni
Q: Dear Commander,
Will you please explain the process of how your people genetically create Hybrid beings, like yourself? Thank you, Commander.
Love, Jujuolui
A: Dear Juju,
Hybrids are created via several ways, such as mixing the DNA from two different parents who are of different species that are incompatable if permitted to reproduce on their own. Hybrids are created using petri dish and in vitro technologies. Fetuses incubate for part of the time in the carrier's womb and then are removed into incubatoriums for the rest of their gestation period as their craniums are too large to allow for normal delivery.
Q: Dear Commander,
Will you please explain how are 'goods' traded between multiple species and planets in the universe? Thank you, Sir.
Lt. Kuita
A: Dear Lieutenant,
Goods and products are bartered and traded among different planets through their trade and commerce councils, who state how much of a product or commodity is allowed to be given. Each planet's federation governs the barter and trade routes that the cargo ships utilize and the amount of tons allowed are regulated to their council's rules. Treaties are used among different nations on different planets, much as on Earth nations are governed by entities like NATO. Planets that violate these treaties are put on alert status, meaning their activities are monitored and their usage of goods is closely scrutinized so that things aren't used to destroy others or their own people. On some planets nations live by sharing all resources among their people so that no one goes without.

Q: Dear Commander,
Please describe the different 'ranks' of your people. And if you would, tell me how do you make the rank of Commander? What are your responsibilities? Thank you so much.

Love, LT
A: Dear LT,
The ranks in my people are as follows: Grand admiral, which is a grand council in the Kiguish or elder Mantis class. This is like a king on Earth as far as rulership. Second is fleet admiral, which controls the management of large ships and oversees smaller ships and their crews. After that is admiral, which is over the head or first commanders. They are in charge under a fleet admiral as far as orders go. After the head commanders are second commanders. After second commander is just a commander, which has only a few ships to be in charge of. After commander is lieutenant, which is first and second class. After lieutenant is technician, which is a highly skilled worker class or caste system. After a technician is the drone or manual class that performs the maintenance services on the ships. After the drones come androids and machines that are made to do the heavy duty work.
Namasté, Commander Sanni
EDITOR'S NOTE: If you have questions to ask ET, please direct them to Commander Sanni by e-mail at UFOeditor@yahoo.com, or send them in to The Star Beacon, 3885 Jackson Run, New Matamoras, OH 45767