GREETINGS, TERRANS!
CHECK OUT
WHAT'S NEW!


NEW!
READ TODAY'S BLOG


Order your copy of
ZETI CHILD


Back in print...
STRANDED ON EARTH
Order your copy now!
ON EAR

Order your copy of
THE LIGHT BEING

Welcome to Earth Star on the Web. Here you will find a wealth of articles on diverse topics including UFOs and extraterrestrials, the paranormal, healing, earth changes, spirituality, the latest sightings, channeling, astrology, book reviews, art, poetry, plus conference news and reports, and a whole lot more.
WHERE WOULD YOU
LIKE TO GO?


The Star Beacon: Earth Star's monthly paranormal newsletter. Subscription info can be found by clicking here.




BOOKS, T-SHIRTS, TAPES -- NEW!
Earth Star's Store features metaphysical, self-help, children's literature and adult fiction, plus original T-shirts and conference lecture tapes. Visit now by clicking here.





PSYCHIC READERS
The NEW Psychic Readers Directory lists Intuitive Counselors from all over. Check out who's doing what, and how to contact them, by clicking here.




THE BEST OF
THE BEACON
Selected articles which have appeared over the years in The Star Beacon
Click here.




CONFERENCES
Check out conferences by clicking here.





FRIENDSHIP CLUB
Earth Star's Galaxy Wide Friendship Club is the place to find like-minded pen pals. Visit now by clicking here.





ART GALLERY
Earth Star's NEW Art Gallery features paintings by Ryan Ulrich plus an assortment of art (including extraterrestrial). Visit now by clicking here.





ARIZONA PAGE
Visit exotic and beautiful Why, Arizona. You can go there by clicking here.




MULES
Animal lovers will get a "kick" out of our Mule Page, featuring the Stucker Mesa Mules. Click here.


PUBLISHING
Earth Star Publications offers book packaging services for self-publishing authors, as well as a lot more. Please see our List of Services.
ADVERTISE HERE!
Advertise your wares or services here by placing an ad in The Star Beacon. To view CLASSIFIED ADS click here. For more information on advertising, e-mail us at UFOeditor@yahoo.com. For information regarding the Psychic Readers and Healers Directory, please e-mail starbeacon@gmail.com.
Commander's Star Base: Ask an ET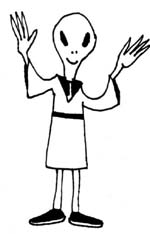 from the May 2010 Star Beacon
By Commander Sanni Ceto

Q: Dear Sanni,
When a half human and a half Pleiadian make their transition, what happens to the half Pleiadian part? Does it go back from where it came from?


A: When a hybrid transitions, the Pleiadian essence of its soul returns to the Pleiades to reincarnate until its cycles of learning have been completed, and then it becomes a much higher form of being, for instance an ascended master. Your origin as Lyran or Pleiadian is strong in your love energies as that's what this planet is directly lacking in — love.
Love, Commander Sanni

Q: Hello, Sanni,
I always wondered where I came from to Earth as I have had dreams of being on another world. The world was peaceful, but attacked and almost destroyed by others to take resources and to enslave those they captured. Some survived in a city under mountains and others escaped out into space on ships. There was a great red desert where robots waged battles and rugged mountains. On the spaceship that left we passed by another planet, gold in color, and energy beings inhabited it. Then we passed a greenish nebula. Then I would wake up. Do you know what world this was?
Lisa

A: Dear Lisa,
That gold planet you saw from your craft was Meropia in Pleiades and your home from your description is a colony world where these huge robots serve as sentinels and were fighting and invading Draconian-led forces who wanted your world's resources. The planet you describe with red deserts and mountains would be Altares 2, which is in the Antares sector.
Love, Commander Sanni


EDITOR'S NOTE: To ask a question of Commander Sanni, please e-mail starbeacon@gmail.com or send to The Star Beacon, 216 Sundown Circle, Pagosa Springs, CO 81147. Be sure to check out the Commander's Web site at http://sanniceto.tripod.com/index.html.


Listen to Commander Sanni on Internet Radio
Recent Shows:
July 6, 2009 - UFOs and the Paranormal with Preston Dennett, BBS Radio (www.bbsradio.com)

Strange Frequencies Radio #021
Topic: The Roswell Incident
Guest(s): Col. Jesse Marcel Jr. and Commander Sanni Ceto (strangefrequenciesradio@live.com)
Check out WHAT'S NEW

Subscribe to The Star Beacon




---
Copyright © 2010 Earth Star Publications
For permission to reprint articles or use graphics, e-mail lightworker@earthstarpublications.com.