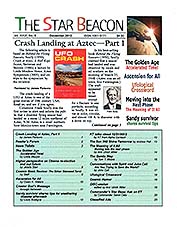 NEWEST RELEASE!
Romantic Suspense
SONATA SUMMER
by Ann Ulrich Miller
Read More!
Also available as an ebook
Just $5.00 at Amazon.com

Romantic Suspense
Novel about Light Workers
RAINBOW MAJESTY
By Ann Ulrich Miller

Order your copy today!
Click Here!
Now available as an ebook
Just $4.00 at Amazon.com

A Cosmic Love Story
THROUGHOUT ALL TIME
by Ann Ulrich Miller

Order your copy today!
Click Here!
True Stories from
Star Beings living on Earth
WE ARE AMONG
YOU ALREADY
by Jujuolui Kuita

Order your copy today!
Click Here!
Crash Landing at Aztec - Part 1
by James Parsons
An indepth report on the March 25, 1948 crash landing of a UFO outside Aztec, NM.
The Gentle Way
by Tom T. Moore
Q & A with topics on 12-12-12 and 12-21-12, Jesus, California and Antura on translation devices.

Higher perspective on Obama re-election
by Jelaila Starr
Obama's re-election was one of the most hotly contested in US history.
KT talks about 12/21/2012
by KT from Alpha Centauri
The Sun's activity is of concern this December.
Reader's Forum
Letters from Readers
"Cloud ships have arrived in New York state" by Cary Dickey; "Worse to come" by WhiteOwl; "Left out of the loop'" by Mara Edwards; "Reaching out" by an unnamed writer; "The blueprint timetable" by Adona, and "From Gray to Gray" by Judy.
DISC-ussion
by Ann Ulrich Miller
"BBC film crew arrested at Area 51"; "Fox UFO News Reports" and "UK blocks extradition of hacker Gary McKinnon."
Conversations with Spirit and John Cali
by John Cali
"Are you trying to save the world?"
Cosmic Book Review
by Ann Ulrich Miller
'The Sirian Starseed Tarot'

Sandy survivor shares tips for weathering disaster aftermath
by Louis Scatigna
News Tidbits
Disclosure, gas plasma engine and the Sirius film.
The Meaning of It All
Moving on to the next phase
by Ann Ulrich Miller
Commander's Star Base: Ask an ET
by Commander Sanni Ceto
Q & A about space.
Ufological Crossword
by Annie Miller
The Golden Age
by Linda Maupin
"Accelerated Time!"
Ascension for All
by Owen K. Waters
Humanity is about to ascend into a more subtle physical form.
Poetry
by Andrew Pell
"The Sun Will Shine Tomorrow"
Creator God's Message
by Neheweh
Through Adona.
Live in Paradise!
Homes for sale in southern Colorado
The December 2012 issue also contains humor, classified ads and other intriguing tidbits of information you won't want to miss.