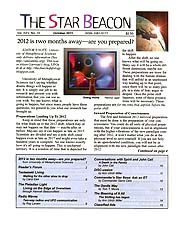 NEWEST RELEASE!
Romantic Suspense
Novel about Light Workers
RAINBOW MAJESTY
By Ann Ulrich Miller

Order your copy today!
Click Here!
Now available as an ebook
Just $4.00 at Amazon.com
Recent Releases...
A Cosmic Love Story
THROUGHOUT ALL TIME
by Ann Ulrich Miller

Order your copy today!
Click Here!
True Stories from
Star Beings living on Earth
WE ARE AMONG
YOU ALREADY
by Jujuolui Kuita

Order your copy today!
Click Here!
2012 is two months away -- are you prepared?
from the University of Metaphysical Sciences
Steps to prepare for upcoming events.
Reader's Forum
by Bob Huth, Sara Hockenbery, Cary Dickey and Rick Case.
Radio Waves
by Ray Larsen
"Two-way radios and UFO communication."
The Gentle Way
by Tom T. Moore
A new column of channeled answers from Gaia.

The Meaning of It All
by Ann Ulrich Miller
"The shifting has already begun"
Conversations with Spirit and John Cali
by John Cali
"A Death in the Family"
DISC-ussion
edited by Ann Ulrich Miller
"Planet orbits two suns" and "Light ships filmed over Pagosa Springs, Colorado"
The Pleiadian Light
Living on the Edge of Overwhelm
through Hannah Beaconsfield
Commander's Star Base: Ask an ET
by Commander Sanni Ceto
Q & A with questions about the Hollow Earth, human hybrids, ET/human DNA and lightning.
Teotwawki Living
by Carol Elek
"Waiting for the other shoe to drop."

Live in Paradise!
For Sale By Owner
The October 2011 issue also contains classified ads and other intriguing tidbits of information you won't want to miss.