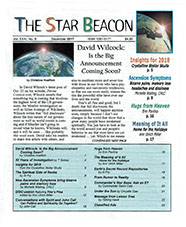 WE PUBLISH BOOKS

FOOD FOR
THE SOUL
Spiritual Nourishment
NEW 2017 BOOK CATALOG IS OUT!
View it ON LINE
50 Case Studies in Modern Palmistry
by T Stokes
NEW! 7th ANNETTE VETTER MYSERY
SPRING BREAK AT
THE LAKE HOUSE
by Ann Carol Ulrich

Order your copy today!
Click Here!



Inspirational!
ROAD TO SUCCESS
by Marilyn L. Redmond
CLICK HERE!
Earth Star's #1 BEST SELLER!
True Stories from
Star Beings living
on Earth
WE ARE AMONG YOU ALREADY
by Jujuolui Kuita
Order your copy today!
Click Here!
Recent Releases:
THE CLIMBING DOG AFFAIR
by Karen W. Gallob

THE UNEXPLAINABLE
by Jana Nolan
$11.95
Fascinating and Entertaining Read!
MeDARLIN
eBook
by Eva Sonnuves
Just $2.99

Romantic Suspense
Novel about Light Workers
RAINBOW MAJESTY
By Ann Ulrich Miller
Order your copy today!
Click Here!

BONUS! Excerpt from
RAINBOW MAJESTY by Ann Ulrich Miller
(FINALIST)
in the 2015 Eric Hoffer Book Awards
READ IT LIVE!

A Cosmic Love Story
THROUGHOUT
ALL TIME
by Ann Ulrich Miller

Order your copy today!
Click Here!
STRANDED ON EARTH
The Story of a Roswell Crash Survivor
By Cmdr. Sanni Ceto
A Best Seller!
DAVID WILCOCK:
Is the Big Announcement Coming Soon?
by Christine Hoeflich
In David Wilcock's latest post of Oct. 22 on his wesite, Divine Cosmocs.com, Wilcock asserts that something big is coming ...
50 YEARS OF INVESTIGATION
by T Stokes
INSIGHTS FOR 2018
Crystalline Stellar Skulls
by Terra Rae and Crista
THE SPIRITUAL SIDE OF ROCKS
by Al Fry
NEW ASCENSION SYMPTOMS BRING BIZARRE PAINS AND MEMORY LOSS
by Michelle Walling, CHLC
UNDER THE SUN
Q & A By Chrystle Clae
DISC-USSION
edited by Ann Ulrich Miller
"Father of Space Age Says 'UFOs Are Here," "UFOs Spotted in 1904 by Future Admiral," "UK Will Not Extradite McKinnon to US," Oklahoma City Thunder Plane Hit by UFO" and "USOs Detected by Navy," with thanks to George Filer and Filer's Filers!
THE MEANING OF IT ALL
"Home for the Holidays"
by Ann Ulrich Miller
MESSAGE FROM LEMON TREE
by Ann Ulrich Miller
FROM RUMOR TO REALITY
New column on "potential" Truths.
CONVERSATIONS WITH SPIRIT
AND JOHN CALI
by John Cali
"Can Politics and Spirituality Go Together?"
HUGS FROM HEAVEN
by Erin Pavlina
EARTH'S SECRET REPOSITORIES
by Al Fry
COMMANDER'S STARBASE
by Commander Sanni Ceto
---
The December 2017

issue also contains classified ads and other intriguing tidbits of information you won't want to miss.
---
Order the current

PDF issue here!

Subscribe to the print or PDF issues

Earth Star Publications


PO Box 267
Eckert, CO 81418

email: starbeacon@gmail.com