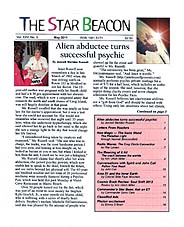 NEWEST RELEASE!
Romantic Suspense
Novel about Light Workers
RAINBOW MAJESTY
By Ann Ulrich Miller

Order your copy today!
Click Here!
Now available as an ebook
Just $4.00 at Amazon.com
Recent Releases...
A Cosmic Love Story
THROUGHOUT ALL TIME
by Ann Ulrich Miller

Order your copy today!
Click Here!
True Stories from
Star Beings living on Earth
WE ARE AMONG
YOU ALREADY
by Jujuolui Kuita

Order your copy today!
Click Here!
Alien abductee turns successful psychic
by Jennett Meriden Russell
Janet Russell's 1962 abduction began her path toward becoming a successful psychic.
New Magic -- The Nano Wand
by Hannah Beaconsfield and The Pleiadian Light
A detailed look at the new scalar technology advertised as radiating zero-point field energy.
Latest from Mark's Corner
letter by Mark Kimmel from his Web site

Conversations With Spirit and John Cali
Follow Your Heart
by John Cali
The best advice is to listen to your inner guidance.
Area 51 and the Inner Earth
by Col. Billie Faye Woodard
From a telephone recording dated Jan. 10, 2002 (Greg Gavin/Onelight.com) about a USAF colonel telling all.
The Meaning of It All: "The crack between the worlds"
by Ann Ulrich Miller
Reflections on life inspired by Ken Carey's revised book, The Starseed Transmissions.
Radio Waves
by Ray Larsen
"The Crop Circle Connection"
Photon Excitement
by Emma O'Brian
Washington state photos of an interesting phenomenon.
Commander's Star Base: Ask an ET
Q & A. Commander Sanni answers readers' questions about HAARP, quartz crystals, The Vault and hearing voices in your head.

Cosmic Book Review: Soul Shift 2012
by Ann Ulrich Miller
Judith Horky's sequel to EarthShift, Soul Shift 2012, is an exciting read and a guide for those of us facing mankind's next spiritual step.
The May 2011 issue also contains classified ads, upcoming conferences, and other intriguing tidbits of information you won't want to miss.