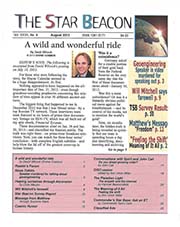 NEW RELEASES!
Into the Wild Blue
$15.00
Permutation, A True UFO Story (revised) $15.00
A Dog Named Ranger
$12.00
ORDER NOW!
Also available as an ebook
Just $3.99 at Amazon.com
Romantic Suspense
SONATA SUMMER
by Ann Ulrich Miller
Read More!
Also available as an ebook
Just $5.00 at Amazon.com

Romantic Suspense
Novel about Light Workers
RAINBOW MAJESTY
By Ann Ulrich Miller

Order your copy today!
Click Here!
Now available as an ebook
Just $4.00 at Amazon.com

A Cosmic Love Story
THROUGHOUT ALL TIME
by Ann Ulrich Miller

Order your copy today!
Click Here!
True Stories from
Star Beings living on Earth
WE ARE AMONG
YOU ALREADY
by Jujuolui Kuita

Order your copy today!
Click Here!
A wild and wonderful ride
by David Wilcock
Excerpted from David's July 4, 2013 posting on DivineCosmos.com.
Results from Star Beacon Spring Survey
Comments and feedback from readers.

Reader's Forum
by Alexandra Bruce and Adona
The video on the Russian Men in Black, and Adona's recent UFO sighting.
Speaker murdered for talking about geoengineering
News Tidbits
Dane Wigington is murdered after his interview on a YouTube video.
DISC-ussion
edited by Ann Ulrich Miller
"UFO appears in 'Street View'"; "New blue planet"; "Moon Base"; "Earth Star's New Books" and "This and that."
Conversations with Spirit and John Cali
by John Cali
"Do you dread growing older?"
Will Mitchell's farewell
Before his death from cancer in June, Will Mitchell wrote a letter of gratitude to all who know him.

Helping ourselves through Ascension
by Linda Maupin
Ascension is a wonderful place of refuge and is our birthright.
Message from Matthew
by Suzanne Ward
Matthew discusses freedom and government control among other topics, dated July 4, 2013.
The empath and the Internet
by Hannah Beaconsfield
The Pleiadian Light discusses how difficult it can be for empaths who surf the Internet and pick up other's energies.
The Meaning of It All
Feeling the Shift
by Ann Ulrich Miller
Commander's Star Base: Ask an ET
by Commander Sanni Ceto
Q & A about space.
Cosmic Humor

Live in Paradise!
Home for sale in southern Colorado
The August 2013 issue also contains humor, classified ads and other intriguing tidbits of information you won't want to miss.