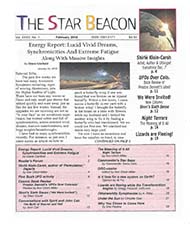 WE PUBLISH BOOKS

FOOD FOR
THE SOUL
Spiritual Nourishment
NEW 2017 BOOK CATALOG IS OUT!
View it ON LINE
50 Case Studies in Modern Palmistry
by T Stokes
NEW! 7th ANNETTE VETTER MYSERY
SPRING BREAK AT
THE LAKE HOUSE
by Ann Carol Ulrich

Order your copy today!
Click Here!



Inspirational!
ROAD TO SUCCESS
by Marilyn L. Redmond
CLICK HERE!
Earth Star's #1 BEST SELLER!
True Stories from
Star Beings living
on Earth
WE ARE AMONG YOU ALREADY
by Jujuolui Kuita
Order your copy today!
Click Here!
Recent Releases:
THE CLIMBING DOG AFFAIR
by Karen W. Gallob

THE UNEXPLAINABLE
by Jana Nolan
$11.95
Fascinating and Entertaining Read!
MeDARLIN
eBook
by Eva Sonnuves
Just $2.99

Romantic Suspense
Novel about Light Workers
RAINBOW MAJESTY
By Ann Ulrich Miller
Order your copy today!
Click Here!

BONUS! Excerpt from
RAINBOW MAJESTY by Ann Ulrich Miller
(FINALIST)
in the 2015 Eric Hoffer Book Awards
READ IT LIVE!

A Cosmic Love Story
THROUGHOUT
ALL TIME
by Ann Ulrich Miller

Order your copy today!
Click Here!
STRANDED ON EARTH
The Story of a Roswell Crash Survivor
By Cmdr. Sanni Ceto
A Best Seller!
Energy Report:
Lucid Vivid Dreams, Synchronicities and Extreme Fatigue along with Massive Insights
by Diane Canfield
From a posting on Diane's website, insights on the Ascension as we all move into higher realms of Light and are experiencing vivid dreams, synchronicities and physical fatigue.
READERS FORUM
Letters by Cary Dickey and unnamed
"Taken aboard" and "Conspiracy theory or actual?"
SHIRLE' KLEIN-CARSH, AUTHOR OF 'PERMUTATION,' DEPARTS
by Ann Ulrich Miller
Includes first chapter of her book
INCREASED ACTIVITY AT PINE BUSH
excerpts from article on WeekinWeird.com from Scott Carr
HISTORICAL SIGHTINGS AND ENCOUNTERS OVER COLORADO
Cosmic Book Review
by Ann Ulrich Miller of Preston Dennett's UFOs Over Colorado
SHERI'S SIXTH SENSE
New column by Sheri Gould
"We Were Invited!"
CONVERSATIONS WITH SPIRIT
AND JOHN CALI
by John Cali
"The Myth of Heaven and Hell"
THE MEANING OF IT ALL
"Night Terrors"
by Ann Ulrich Miller
COMMANDER'S STARBASE
by Commander Sanni Ceto
DISC-USSION
edited by Ann Ulrich Miller
"After Chaos and Averting Extinction," "Strange sounds heard around the world," "Paul Hill's Interstellar Travel in 'Unconventional Flying Objects'" and "Trump Executive Order targets Deep State, opening door to disclosure" (with thanks to George Filer of Filer's Files)
IS IT TIME FOR A NEW SYSTEM ON EARTH?
by Al Fry
LIZARDS ARE FLEEING WHILE THE TRANSFORMATION BEGINS
by Gregg Prescott, M.S., of In5D.com
UNDER THE SUN
Q & A By Chrystle Clae
OTHERWORLDLY SYMPHONIES
Poetry y A. Raby
WHY YOU CHOSE TO COME HERE
by Erin Pavlina
EARTH'S SECRET REPOSITORIES
by Al Fry
---
The February 2018

issue also contains classified ads and other intriguing tidbits of information you won't want to miss.
---
Order the current

PDF issue here!

Subscribe to the print or PDF issues

Earth Star Publications


PO Box 267
Eckert, CO 81418

email: starbeacon@gmail.com