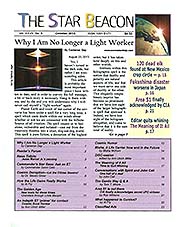 NEW RELEASES!
Into the Wild Blue
$15.00
Permutation, A True UFO Story (revised) $15.00
A Dog Named Ranger
$12.00
ORDER NOW!
Also available as an ebook
Just $3.99 at Amazon.com
Romantic Suspense
SONATA SUMMER
by Ann Ulrich Miller
Read More!
Also available as an ebook
Just $5.00 at Amazon.com

Romantic Suspense
Novel about Light Workers
RAINBOW MAJESTY
By Ann Ulrich Miller

Order your copy today!
Click Here!
Now available as an ebook
Just $4.00 at Amazon.com

A Cosmic Love Story
THROUGHOUT ALL TIME
by Ann Ulrich Miller

Order your copy today!
Click Here!
True Stories from
Star Beings living on Earth
WE ARE AMONG
YOU ALREADY
by Jujuolui Kuita

Order your copy today!
Click Here!
Why I Am No Longer a Light Worker
by Cameron Day
Excerpted from his blog, a controversial look at light workers.
News Tidbits
Jesse Marcel Jr.'s obituary

Reader's Forum
Letters from Alana, Bob Huth and Carlton Payne.
Cosmic Deception - Let the Citizen Beware!
by Dr. Steven Greer
Excerpts from a paper on the Disclosure Project.
DISC-ussion
edited by Ann Ulrich Miller
"120 dead elk found near mysterious crop circle in N.M."; "ISS captures UFO"; "Alaska discs"; and "Fukushima Disaster Worsens."
Conversations with Spirit and John Cali
by John Cali
"One hell of a deal"
An indepth ET 'primer' for contact
by Ann Ulrich Miller
Cosmic book review of Tom T. Moore's book, First Contact.

The Golden Age
by Chandara and Linda Maupin
New tools for these times
Area 51 is out there
by Rob Williams
CIA finally acknowledges the existence of secret UFO air base
The Gentle Way Q & A
by Tom T. Moore
What happened to Cursive?
by Al Fry
How the Life Game Really Works
by Al Fry
The writer compares life to "The Matrix."
Misha, a Life Carrier now and in the future
by Misha McKorn
Personal testimony from a devoted light worker in Arizona.
The Meaning of It All
Time to Quit Whining
by Ann Ulrich Miller
Commander's Star Base: Ask an ET
by Commander Sanni Ceto
Q & A about space.
Cosmic Humor

Live in Paradise!
Home for sale in southern Colorado
The October 2013 issue also contains humor, classified ads and other intriguing tidbits of information you won't want to miss.