'Tiger's Curse' series is a winner
COSMIC BOOK REVIEW by ANN ULRICH MILLER
© 2011 (all rights reserved)
An article from the DECEMBER 2011 issue of THE STAR BEACON.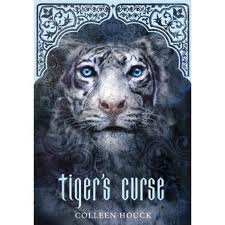 Tiger's Curse (Book 1) by Colleen Houck,
Splinter, January 2011, young adult, 448 pages
ISBN 1-4027-8403-1, $17.95 (US), $21.95 (CAN)
My fear of snakes has been greatly reduced, thanks to a series of young adult books by Colleen Houck. I couldn't help but become infatuated with Falindra, the golden arm bracelet of a snake given to the main character Kelsey by the goddess Durga, for protection. The coiled armpiece turns into a real snake in times of need and is not only a protector but an adored pet.
When I picked up Tiger's Curse and started reading, I was hooked. Kelsey Hayes, an 18-year-old high school graduate, needs a summer job to save money for college. Fate leads her to a temporary, part-time position at a circus -- feeding a tiger -- but not just any tiger. This one lives part of his life as a man!
The last thing Kelsey thought she'd be doing over the summer was trying to break a 300-year-old Indian curse -- with a mysterious white tiger named Ren, which takes her halfway around the world.
Face-to-face with dark forces, spellbinding magic and mystical worlds — where nothing is what it seems -- Kelsey risks everything to piece together an ancient prophecy that can break the curse forever.
Tiger's Curse is the exciting first volume in this epic fantasy-romance that certainly left me breathless and yearning for more.

Tiger's Quest (Book 2) by Colleen Houck
Splinter, June 2011, young adult, 496 pages
ISBN 1-4027-8404-X, $17.95 (US), $21.95 (CAN)

Back in Oregon, Kelsey tries to pick up the pieces of her life and push aside her feelings for Ren. But danger lurks around the corner, forcing her to return to India where she embarks on a second quest -- this time with Ren's dark, bad-boy brother Kishan, who has also fallen prey to the Tiger's Curse. Fraught with danger, spellbinding dreams, and choices of the heart, Tiger's Quest brings the trio one step closer to breaking the spell that binds them.

Tiger's Voyage (Book 3) by Colleen Houck
Splinter, November 2011, young adult, 496 pp
ISBN 1-4027-8405-8, $17.95 (US), $21.95 (CAN)

The third book in the gripping Tiger's Curse series begins with heartbreak. With the head-to-head battle against the villainous Lokesh behind her, Kelsey confronts a worse challenge: in the wake of his traumatic experience, her beloved Ren no longer remembers who she is.
As the trio continues their quest by challenging five cunning and duplicitous dragons, Ren and Kishan once more vie for her affections -- leaving Kelsey more confused than ever.
Fraught with danger, filled with magic and packed with romance, Tiger's Voyage brings Kelsey and her two tiger princes one step closer to breaking the curse. This fast-paced novel includes a sneak peek at Tiger's Destiny (Book 4)
I really can't wait for this next one! And I also couldn't help recently buying a stuffed snake that reminded me of Falindra, which I keep as a "protector" on my bedside table.
Colleen Houck has received literary praise and success for her first book. Colleen lives in Salem, Oregon with her husband and a life-sized white stuffed tiger. You can get more information by visiting: www.colleenhouck.com.
---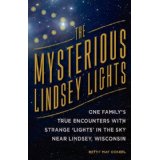 The Mysterious Lindsey Lights by Betty May Ockerl
Vantage Press, October 2011, ISBN 978-0-533-163-99-186 pages, paperback, $11.95

Here's something short and sweet from my home state of Wisconsin. Lindsey resident Betty May Ockerl tells her story about the unusual and baffling lights she and her family have witnessed on their 10 acres near Marshfield, Wis. since 2004.
Included are illustrations by the author of some of the things they saw. This is not a book by a degreed ufologist or authority figure... just a brave Wisconsin woman who wants to share an unusual set of experiences in hopes that it might bring help herself and others who read about it a better understanding of what is going on.
BACK TO WHAT'S NEW
GO TO EARTH STAR'S HOME PAGE
This page updated December 10, 2011
STAR BEACON
SUBJECT INDEX
2011 2010 2009 2008
2007 2006 2005 2004
2003 2002 2001 2000
1999 1998 1997 1996
1995 1994 1993 1992
1991 1990 1989 1988
Back issues available for $2.00

CLICK HERE to receive FREE monthly newsletter

Earth Star Books
Browse our Book Catalog to view all our books and publications.
We also sell T-shirts and Cosmic business cards!
SIGN UP for Star Beacon monthly updates!


Click to join starbeacon
Publishing Professional
Earth Star offers editing and production services for self-publishing authors, plus a lot more. You may inquire by contacting us at starbeacon@gmail.com
See all we offer in the way of publishing services. Check it out...
Psychic Readers Page
Our free directory lists intuitives ready to assist you.. View Psychics Page...