Commander's Star Base: Ask an ET
by Commander Sanni Ceto
© 2011 (all rights reserved)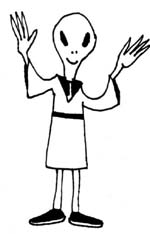 An article from the APRIL 2011 issue of THE STAR BEACON.
Q:
Good day,
Thank you very much for your response, it was surprising, enlightening and informative.
Now, if I may, I would like to know when did the White and Asian races appear on Earth, and where did they come from?
Thank you, Commander Sanni, for enlightening those of us on Earth who are curious about the true history of our planet.
Be well. Respectfully, Victor M. Flores
A: Dear Victor,
The Caucasoid/Anglo races on Earth came here originally from Lyra and the Pleiades and were the result of biogenetic experiments as they were scientists and seeded Earth with these peoples.
Love, Commander Sanni

Q: Momma Kat here with a question… Do I have any spirit guides and do they protect me from reptilians and evil people? Love, Momma Kat

A: Dear Momma Kat,
You have many guides that are protecting you and watching over you. They are never far away from you. Love, Commander Sanni

If you have a question for Commander Sanni Ceto, please e-mail it to UFOeditor@yahoo.com and put "Ask ET" in the subject line. The Commander is happy to answer any and all questions.
BACK TO WHAT'S NEW
2011 SUBJECT INDEX
GO TO EARTH STAR'S HOME PAGE
This page updated April 4, 2011
STAR BEACON
SUBJECT INDEX
2011 2010 2009 2008
2007 2006 2005 2004
2003 2002 2001 2000
1999 1998 1997 1996
1995 1994 1993 1992
1991 1990 1989 1988
Back issues available for $2.00

CLICK HERE to receive FREE monthly newsletter

Earth Star Books
Browse our Book Catalog to view all our books and publications.
We also sell T-shirts and Cosmic business cards!
SIGN UP for Star Beacon monthly updates!


Click to join starbeacon
Publishing Professional
Earth Star offers editing and production services for self-publishing authors, plus a lot more. You may inquire by contacting us at starbeacon@gmail.com
See all we offer in the way of publishing services. Check it out...
Psychic Readers Page
Our free directory lists intuitives ready to assist you.. View Psychics Page...