Cosmic Book Reviews
by ANN ULRICH MILLER
© 2012 (all rights reserved)
An article from the October 2012 issue
of THE STAR BEACON.
'Your Soul's Gift' and 'Solar Revolution'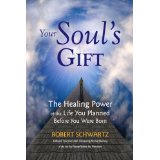 Your Soul's Gift, The Healing
Power of the Life You Planned
Before You Were Born
by Robert Schwartz (2012)
ISBN 978-0-9776794-6-1
Whispering Winds Press,
Paperback 528 pages, $24.95
www.yoursoulsplan.com

Review by Ann Ulrich Miller

Robert Schwartz came out in 2007 with the book, Your Soul's Plan: Discovering the Real Meaning of the Life You Planned Before You Were Born, reviewed in TSB September 2007 and again in April 2010 by my son Marty. Schwartz's new book differs from its predecessor in that it explores two topics that don't necessarily fall into the challenge category as in the first book: spiritual awakening and pre-birth planning we do with our future pets.
Also, his new book discusses the subject of healing in more depth. Your Soul's Gift also explores the pre-birth planning of circumstances and experiences not discussed in the first book, namely miscarriage, abortion, caregiving, abusive relationships, sexuality, incest, adoption, poverty, suicide, rape, and mental illness.
To gain a greater understanding of your life, its purpose, and why certain events occur that seem to thwart your efforts to succeed, this book can be a powerful resource and open insights to help you get past those self-pity drop-offs we all seem to fall into from time to time.
Some of the cases tended to be a bit lengthy and I found myself wanting to skim through the "pets" chapter simply because early on I "got it." But then came the abusive relationships chapter, which did grab my interest, followed by the sex chapter -- even more interesting!
If you know of someone struggling in life -- or perhaps if you would like to understand your own life more -- this book is a treasure.
Solar Revolution, Why
Mankind Is on the Cusp of
an Evolutionary Leap
by Dieter Broers (2012)
ISBN 978-1-58394-504-9
Evolver Editions,
Paperback 217 pages,
$16.95 (eBook ed. $11.95)
www.northatlanticbooks.com


The countdown has begun. One in seven people believe that the world will end in their lifetime and one in 10 believe that the apocalypse will come as predicted by the Mayan calendar on Dec. 21, 2012. In 2009 millions of people flocked to the doomsday film 2012.
In his book Solar Revolution: Why Mankind Is on the Cusp of an Evolutionary Leap, biophysicist Dieter Broers makes the case that we are on the verge of a transformation, pointing to a wealth of scientific evidence that shows a remarkable correlation between advances in our creative, mental and spiritual abilities, along with increases in solar activity. We are not on the brink of an apocalypse, but the dawn of an exciting new age.
Broers has conducted research in the fields of frequency, and says the way we think, feel, relate, communicate and experience reality has been changing dramatically in recent years. He believes those changes will culminate in a new form of super-consciousness and harmony on Earth.
We are in the midst of a dramatic rise in solar disturbances which have the ability to affect Earth in alarming ways, disrupting the geomagnetic field, knocking out entire power grids, and influencing the development of organisms and ecology as a whole.
But Broers instead presents for readers a journey into the world of myth and science. Drawing on decades of research from different scientific disciplines, he shows how the eruption of solar activities has the power to boost our brain capacity, expand our minds, and ultimately create harmony on Earth.
BACK TO WHAT'S NEW
GO TO EARTH STAR'S HOME PAGE
This page updated October 17, 2012
STAR BEACON
SUBJECT INDEX
2012 2011 2010
2009 2008 2007
2006 2005 2004
2003 2002 2001
2000 1999 1998
1997 1996 1995
1994 1993 1992
1991 1990 1989
1988
Back issues available for $2.00

CLICK HERE to receive FREE monthly newsletter

Earth Star Books
Browse our Book Catalog to view all our books and publications.
We also sell T-shirts and Cosmic business cards!
SIGN UP for Star Beacon monthly updates!


Click to join starbeacon
Publishing Professional
Earth Star offers editing and production services for self-publishing authors, plus a lot more. You may inquire by contacting us at starbeacon@gmail.com
See all we offer in the way of publishing services. Check it out...
Psychic Readers Page
Our free directory lists intuitives ready to assist you.. View Psychics Page...