DISC-ussion
edited by Ann Ulrich Miller
© 2013 (all rights reserved)
An article from the June 2013 issue of
THE STAR BEACON.
Citizens' hearings on disclosure
The following report is taken from Filer's Files #19-2013, dated May 7, 2013. To receive George Filer's email newsletter on UFO sightings and reports, sign up at http://www.listrocket.com/public/ listhome.php?ID=76ca515d65530ff1ec4e

By George Filer

Stephen Bass, pictured here (on the right), arranged the excellent Citizens Hearings on Disclosure. I was impressed by all the speakers and the retired congressmen and congresswomen. I wish they were still in office, but I will be sending them my weekly files and hope they will pass them on to their friends.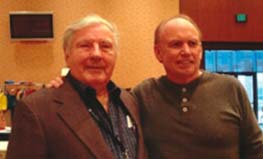 The main ballroom of the National Press Club in Washington, D.C., was converted to look like a Senate hearing room for the five-day hearing. The Hearing Committee included former Senator Mike Gravel (D-Alaska), former Congresswomen Darlene Hooley (D-Ore.), Carolyn Kilpatrick (D-Mich.), Lynn Woolsey (D-Calif.), and former Congressman Merrill Cook (R-Utah). These intelligent people have seen the evidence by 40 experts and know the phenomenon is real.



Congresswoman Kilpatrick praises testimony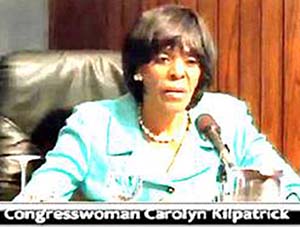 I had a pleasant conversation with Congresswoman Carolyn Kilpatrick, who told me she was very moved by the testimony of pilots as well as from the other witnesses during the week.
She said, "I've heard some of the most intelligent, scientific and universal knowledge on the topic that I didn't know I was going to witness. Yesterday we heard from 12 different countries who have hundreds of years of scientific intelligent information on this subject.
"It behooves us, as human beings, in what is known as the greatest country in the world, to participate in that discussion. To not act like something exists and then to further act like it's a joke, we do a disservice to our ancestors, to God, and to the people of the world.
"I want the world and the universe to continue. And if there is something out there -- and I'm not a scientist -- there's a whole lot we don't know. I think it's ignorant of any people not to seek out what we need to know to continue the universe.
"I was convinced before this morning's panel that there probably is something out there, and I'm willing to work the rest of my life to see that, if it is, how we can enhance the universe to see that we all have a better quality of life."
I personally provided testimony on the Pilot's Panel with commercial airline pilot James Courant.
Sen. Mike Gravel Says White House
is hiding UFO evidence
The following, which appeared on the same Filer's Files, is written by Ashley Davis, who has a blog at www.opposingviews.com.
During a meeting held by UFO advocacy group Paradigm Research, six former congress representatives were paid $20,000 to reveal their thoughts about UFO sightings and extraterrestrial visits.
Former Sen. Mike Gravel (D-Alaska) said, "I believe that the White House is hiding the truth about extraterrestrial influence that is investigating our planet."
"It goes right to the White House, and of course, once the White House takes a position, 'well there's nothing going on' … it just goes down the chain of command, everyone stands toe," he said.
Gravel pointed out that many former military officers, like retired Air Force Capt. Robert Salas, have seen UFOs and observed them disabling nuclear weapons.
"The smoking gun of the whole issue, which is when they saw hovering space craft in Wyoming and South Dakota over the ICBM missile silos that the missiles couldn't work," Gravel said.
"What we're faced with here is, in areas of the media, and the government too, an effort to marginalize and ridicule people who have specific knowledge."
After he was asked about the fact that he was given money to make a speech, Gravel insisted it did not influence his agreement with the testimony.
"This is an opportunity which I've taken to focus on this issue for an entire week and the preparation I made in coming to it, for my enrichment that's very important," he said. (Source: NY Daily News)


Visitors from Outer Space -- Real or Not -- are focus of discussion in Hearing Testimony
by George Filer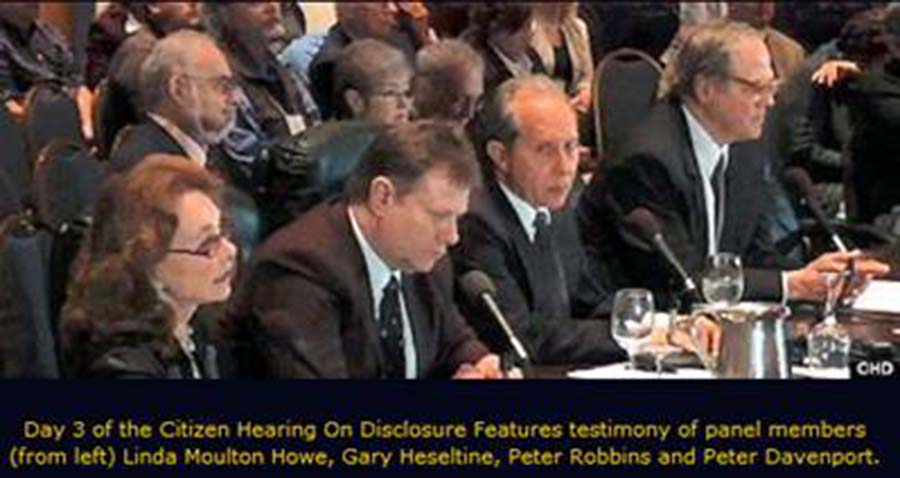 I spoke with all these panel members who had excellent presentations: Peter Davenport, director of the National UFO Reporting Center, who recounted eyewitness reports of UFOs hovering motionless and able to change direction more quickly than earthly technologies would seem to allow. Peter Robbins, a researcher and lecturer, who told about the Rendlesham Forest Incident in the U.K., where U.S. Air Force personnel said they witnessed a UFO. Gary Heseltine, a former U.K. police detective, who has collected sightings from police officers, stated, "I now have over 425 cases involving over 940 British police officers." Heseltine told the panel, "Over 70 percent of these cases are multiple-witness-officer cases."
Linda Moulton Howe, a researcher and filmmaker who studies livestock mutilation, brought slides of horses and cattle that had been stripped of flesh and their organs removed surgically, and were left on soft patches of earth without any surrounding tracks, Howe said.
"Ranchers have seen the glowing discs put beams down. Ranchers have seen the animals rise."
(Thanks to Chris Good)
http://www.citizenshearing.com/webcast_english.html
BACK TO WHAT'S NEW
GO TO EARTH STAR'S HOME PAGE
This page updated May 30, 2013
STAR BEACON
SUBJECT INDEX
2012 2011 2010
2009 2008 2007
2006 2005 2004
2003 2002 2001
2000 1999 1998
1997 1996 1995
1994 1993 1992
1991 1990 1989
1988
Back issues available for $2.00

CLICK HERE to receive FREE monthly newsletter

Earth Star Books
Browse our Book Catalog to view all our books and publications.
We also sell T-shirts and Cosmic business cards!
SIGN UP for Star Beacon monthly updates!


Click to join starbeacon
Publishing Professional
Earth Star offers editing and production services for self-publishing authors, plus a lot more. You may inquire by contacting us at starbeacon@gmail.com
See all we offer in the way of publishing services. Check it out...
Psychic Readers Page
Our free directory lists intuitives ready to assist you.. View Psychics Page...