Cosmic Book Review
Atlantis & Lemuria's secrets revealed in new book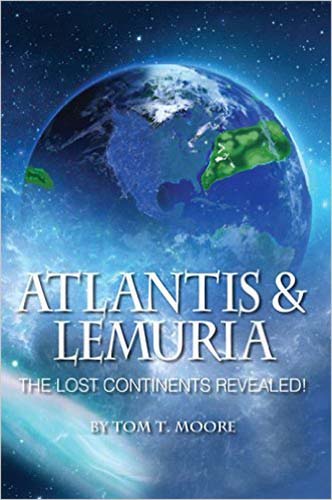 Atlantis & Lemuria: The Lost Continents Revealed!
by Tom T. Moore, 2015
ISBN 978-1-62233-037-9, Light Technology Publishing, 256 pages, Flagstaff, AZ, paper, $16.95

Review by Ann Ulrich Miller

An eye-opening and mind-blowing look at our ancient past can be had when you read Tom T. Moore's latest book, Atlantis & Lemuria: The Lost Continents Revealed! Through his guardian angel, Theo (a "golden light being") and the soul of Earth, known as Gaia, Tom asks questions and receives answers in his alpha state, regarding the history of the two lost continents -- Atlantis and Lemuria.
In his introduction, Tom explains that 60,000 years ago, the continents of Atlantis and Lemuria were each about 10 to 12 percent larger than the continent of Australia today. Atlantis was located in the Atlantic Ocean, between North America and Africa, and Lemuria (also known as "Mu") was in the Pacific Ocean.
Plato wrote about Atlantis around 360 BC, his works, which have been greatly covered in other books. Also, Edgar Cayce, known as the "sleeping prophet," revealed a lot of information about the two lost continents.
"The Atlanteans and Lemurians were just like you and me," Tom writes. "We have not yet caught up to their advancements in energy and medical treatments." Unfortunately, these civilizations destroyed themselves, and you will read in the book how all this came about and why.
If you've ever wondered about the arrival of Adam and Eve, the origin of the Great Flood and biblical events, this will bring about a better understanding. Also, you'll read about daily life on Atlantis and Lemuria, and it wouldn't be unusual if you felt a familiarity with these civilizations of the distant past as you most likely had a past life in one or both places.
We learn about the forms of communication, social interactions and the science, technology and health care, along with their government and military. It's sad, actually, to realize that human civilization has not made much progress in this respect.
But you decide for yourself. Tom T. Moore, the author of The Gentle Way books (I, II and III), runs an international motion picture and TV program distribution business. He has taught many about requests for benevolent outcomes, which result in gentler, less stressful and less fearful ways of life. In addition to the three Gentle Way books, he wrote First Contact: Conversations with an ET.
His writing is always intriguing and you'll have a considerably higher knowledge and appreciation of Earth's history after you've read his latest.

---
BACK TO WHAT'S NEW
GO TO EARTH STAR'S HOME PAGE
This page updated April 1, 2016
STAR BEACON
SUBJECT INDEX
2016 2015 2014
2013 2012 2011
2010 2009 2008
2007 2006 2005
2004 2003 2002
2001 2000 1999
1998 1997 1996
1995 1994 1993
1992 1991 1990
1989 1988 1987
What's New!
Greetings, Terrans! See the latest articles. Check out the current issue...

CLICK HERE to receive FREE bimonthly e-newsletter

Earth Star Books
Browse our Book Catalog to view all our books and publications.
Publishing Professional
Earth Star offers editing and production services for self-publishing authors, plus a lot more. You may inquire by contacting us at starbeacon@gmail.com
See all we offer in the way of publishing services. Check it out...
Psychic Readers Page
Our free directory lists intuitives ready to assist you... View Psychics Page...