Falcon or Merlin Visit?
by Terra Rae of "Team Earth"
© 2015 (all rights reserved)
An article from the December 2015 issue of THE STAR BEACON.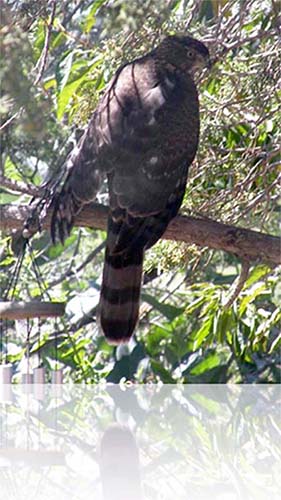 Belinda and I were working on the photos for my up-and-coming "Crystalline Stellar Skulls" book, and she spotted a few shots of a large bird, in the mix. "Is that a hawk?" she asked.
"No, it's a falcon," I replied.
"I didn't know there were falcons here, and I've lived here my whole life," she stated, rather surprised.
"You're sure that's not a hawk?" she inquired.
"No, it's a falcon. See how he has a long straight tail with subtle stripes. Notice the flat head, and smaller curved beak? I see them out on the greenbelt sometimes, when I am out walking."
"That's very cool, and I can't believe I have never seen one here!" she said, studying the bird.
"What's really cool is, that it's Merlin paying me a visit! He can jump into a carrion if it is a brilliant and fortified bird. The falcon is his favorite, since it can turn on a dime, and possibly 'see' like no other," I shared.
"Really ~ interesting!" she glanced at me as we went back to work.
Not even five minutes later, she said in a quiet and quick statement, "A big bird just flew into your yard!"
We both turned quickly and looked straight out the large window, and not 10 feet away, right on a branch straight in front of us, was a beautiful falcon. We watched for 10 to 15 minutes and he seemed quite comfortable, scouting the yard for prey, and sometimes he would look over at us watching him. My camera was right there on the desk, so I was able to fire off a few good shots of him. Since there was a hummingbird feeder very close to him, and I didn't want him picking off the hummers, I decided to call in the #StellarSkulls and asked if they would go stir up a mouse for him.
In less than a minute, the falcon swooped around the yard, showing us how he could maneuver, and landed on the wall. He took a quick look around, and swooped down into the gravel driveway, snatching up a mouse. We both watched, and Belinda was just about speechless.
"Thanks for checking in, Merlin!" I said as I went back to work on a Stellar Skull photo.
"I could actually hear someone tell me to 'turn around', since my back was to the window, so I could see him fly onto the branch," she stated as she went back to her workspace.
"Do you think it was Merlin ~ or the Skullies?"

Watch for Terra Rae's new book release:
Crystalline Stellar Skulls: Who are they Really?

Sign up for our: Stellar Newsletter and Monthly Activation Telecom at StellarSkulls.com
email: info@StellarSkulls.com
GO TO EARTH STAR'S HOME PAGE
This page updated December 3, 2015
STAR BEACON
SUBJECT INDEX
2016 2015 2014
2013 2012 2011
2010 2009 2008
2007 2006 2005
2004 2003 2002
2001 2000 1999
1998 1997 1996
1995 1994 1993
1992 1991 1990
1989 1988 1987
What's New!
Greetings, Terrans! See the latest articles. Check out the current issue...

CLICK HERE to receive FREE bimonthly e-newsletter

Earth Star Books
Browse our Book Catalog to view all our books and publications.
Publishing Professional
Earth Star offers editing and production services for self-publishing authors, plus a lot more. You may inquire by contacting us at starbeacon@gmail.com
See all we offer in the way of publishing services. Check it out...
Psychic Readers Page
Our free directory lists intuitives ready to assist you... View Psychics Page...