The Meaning of It All
by ANN ULRICH MILLER
© 2016 (all rights reserved)
An article from the December 2016 issue of THE STAR BEACON.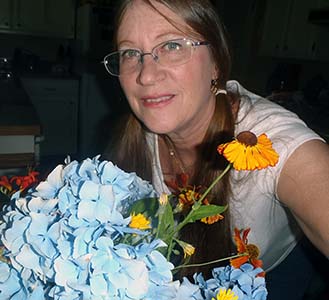 What book characters have to say about the meaning of it all
What would the characters in my novels say about metaphysics and the world around us today? I thought it would be fun to ask some of them, and see what their responses are.
Juniper Sutton (Rainbow Majesty): "After getting to know all the light workers at Aunt Rosalee's lodge, I've discovered a world of people I never used to take seriously. And now I am becoming one of them and it all makes so much more sense. I want to be of service to humanity instead of competing with everyone. I see happiness ahead."
Annette Vetter (main character in the seven Annette Vetter mysteries): "What do I know? I'm only 15. In fact, I've been 15 for the last 50 years. I did come of age in the late '60s, and that was an era of enlightenment for a lot of people, including my Author. If there is any meaning to life, I think it is has to do with being kind, doing what you think is right and good, and helping others who aren't as lucky."
Johanna Dobbs (main character in Intimate Abduction): "Life for me used to be simple … boring, really … stuck in my comfort zone, knowing what was always going to happen next. Boring! Well, then something really bizarre happened to me … I got abducted during intermission at the ballet! How much more bizarre can that be? Well, a lot more, actually … not only did I end up on the mental ward of the local hospital, but then I was taken with other patients aboard a spacecraft to another planet! Talk about mind blowing … if it hadn't been for the fact that I fell in love with my alien abductor, I really would have been a basket case. The meaning of it all is love."
Winnie Grant (main character in Night of the November Moon): "Things are not always what they seem. People are not always who you think they are. I was blind to the truth, but now I see."
Rhea Sinclair (main character in Sonata Summer): "Music is the meaning of it all. Music was my whole life in Aspen. I would probably have died without it. My piano became the only comfort after my fiancé was killed in a forest fire. I became stuck in my past, not willing to grow or risk loving again. I also realized that psychic phenomena is real. Well, how else would you explain Parker's spirit jogging at my side and talking to me on the Rio Grande Trail? Nobody else could see him."
Ranger (main character in A Dog Named Ranger): "Dogs come into people's lives to serve them, to offer love and to expect little in return. I was that kind of dog. The whole purpose of my life was to be with my humans, to teach them that life is fun and that they should play more. Dog spelled backwards is God."
Kapri (character in Return To Terra): "There is no greater honor than serving for the benefit of all beings in the Universe and beyond. The diversity of life in the Universe is beyond anything you can ever imagine. I feel honored that I was selected to come to the Terran planet in human form and help people who needed to find Truth. My mission was not only gratifying, but it helped initiate The Shift."
Penny Duncan (supporting character in the Annette Vetter series): "You know, everybody thinks I'm a little crazy because I like to talk about ghosts and paranormal things … yes, I even believe in UFOs! I really believe there's something to all of this, and I have a curious mind. Annette's more down to earth than I am. I guess you could call me a dreamer … and I'm not the only one."
Crystal Dobbs (character in The Light Being): "What would you expect from a girl whose mom is from Earth? I'm a hybrid, and I hated it at first. I hated being different from the other kids at school. I didn't like how they transformed me at birth so that I'd look Terran. Yes, I'm rebellious. No, I don't get along with my mom … she's strict and doesn't agree with me most the time. What's the meaning of it all? I found out when the Light Being came into my life. If it hadn't been for Elby, I would have been ruined in the clutches of that horrible Thorden. Elby exudes pure Love. Love is the answer."
Ruby Foley (character in the later Annette Vetter books): "Everyone says I'm an optimist. I guess that's true, I've always looked on the bright side of things, and my life has not been easy … not with an alcoholic mother and a dad missing in action over in Vietnam. I think optimistic people get challenged more than those who don't have hope. I know my dad is coming back from Vietnam … I just know it!"

Ann Ulrich Miller, publisher of The Star Beacon and Wisp, writes novels in various genres. Her latest is a Young Adult mystery/ romance, The Ground Hog Mystery ($9.95), available at AnnUlrichMiller.com and Amazon.com or Kindle ($3.99).

BACK TO WHAT'S NEW
GO TO EARTH STAR'S HOME PAGE
This page updated December 7, 2016
STAR BEACON
SUBJECT INDEX
2016 2015 2014
2013 2012 2011
2010 2009 2008
2007 2006 2005
2004 2003 2002
2001 2000 1999
1998 1997 1996
1995 1994 1993
1992 1991 1990
1989 1988 1987

CLICK HERE to receive FREE monthly newsletter

Earth Star Books
Browse our Book Catalog to view all our books and publications.
Publishing Professional
Earth Star offers editing and production services for self-publishing authors, plus a lot more. You may inquire by contacting us at starbeacon@gmail.com
See all we offer in the way of publishing services. Check it out...
Psychic Readers Page
Our free directory lists intuitives ready to assist you.. View Psychics Page...