The Meaning of It All
by ANN ULRICH MILLER
© 2016 (all rights reserved)
An article from the December 2017 issue of THE STAR BEACON.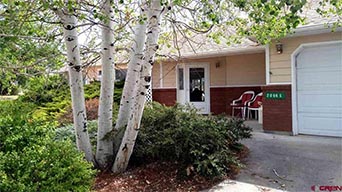 Home for the Holidays
"The Gypsy" in me has finally come home and is celebrating the holidays this year with family and loved ones. This is the first Christmas in many years in which I feel secure and in the true Christmas spirit.
After moving eight times in the last 10 years, what a relief it is to be settled in my new house in Orchard City, Colorado.
But I do have friends who are still reluctant to use anything but a pencil when they change my information in their address books. And who can blame them? Nothing is permanent. Life is about change and experiences.
Especially in the last couple of years, have you noticed how much things have been changing? And it's not necessarily a bad thing, in my opinion.
What I find interesting is how chaotic the world appears to be right now, yet everything is in Divine Order. If you watch any of the major news channels (and I do), you'll be appalled and maybe a bit disgusted by all the crazy shenanigans going on, particularly in an area called Washington, DC.
Being able to look at it from a higher perspective will bring clarification and perhaps give some relief to the situations that present themselves on a daily basis. It's a trap to get caught up in the drama, yet there is more to the story than what we are being told, and with that understanding, we can rise above the pettiness and inanity and focus on the consciousness needed to bring the age of peace to our planet.
I found the article by Christine Hoeflich on Ascension symptoms very interesting as I, too, have experienced a lot of those things mentioned. At first I attributed it to the stress of moving and getting older (aches and pains skyrocket once you're in your 60s), and the need for sleep as well as the temporary memory lapses ring true with me lately.
Also, John Cali's essay on politics helped to remind me that staying neutral is probably a good idea for most people. Myself, not so much as I am outspoken at times about my conservative views and proud of sticking up for the US and our values.
I don't know what the future will bring, but I do know that love, kindness, forgiveness, service to others and a pure heart are the qualities that will keep us going, striving for that goal as we ascend in these long-predicted days and years ahead.
We are guided and my Inner Self knows there are ET helpers who are acting as guardians and defenders against the perceived evils we face in these so-called "end times." I believe in my heart that it is worth sticking around on Earth to see what's going to happen next.
Just like a good book you can't put down ... living in this time of history is exciting, challenging, and unprecedented with all of the leaps and bounds we humans are experiencing. It will happen in due time --things like disclosure and Peace on Earth, which is probably the most desirable gift I could ask for at this spiritual time of year.
I am grateful to be close to family right now, and to have my special partner, Doug, living across from me. It was, I feel, a divine move on the part of Spirit, that his new home came available just after I contracted to buy mine. How synchronous!

Ann Ulrich Miller publishes The Star Beacon and its sister magazine, Wisp, which focuses on uplifting news, heart-warming stories and humor. She is a novelist and just started writing her next romantic suspense title, The Dream Chasers. Check out her author website at AnnUlrichMiller.com.
BACK TO WHAT'S NEW
GO TO EARTH STAR'S HOME PAGE
This page updated December 17, 2017
STAR BEACON
SUBJECT INDEX
2016 2015 2014
2013 2012 2011
2010 2009 2008
2007 2006 2005
2004 2003 2002
2001 2000 1999
1998 1997 1996
1995 1994 1993
1992 1991 1990
1989 1988 1987

CLICK HERE to receive FREE monthly newsletter

Earth Star Books
Browse our Book Catalog to view all our books and publications.
Publishing Professional
Earth Star offers editing and production services for self-publishing authors, plus a lot more. You may inquire by contacting us at starbeacon@gmail.com
See all we offer in the way of publishing services. Check it out...
Psychic Readers Page
Our free directory lists intuitives ready to assist you.. View Psychics Page...