Cosmic Book Reviews
from the August 2017 Star Beacon
Extraterrestrial Wisdom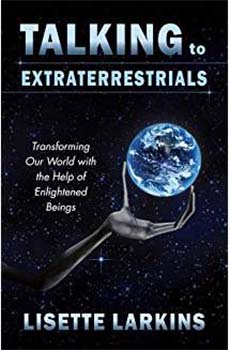 Talking to Extraterrestrials
by Lisette Larkins
ISBN 978-1937907136
Rainbow Ridge, revised 2013
288 pages, $17.95

Review by Ann Ulrich Miller

I ordered this book after I received the first letter from the person whose name I won't reveal, who has been sharing contact experiences (see Readers Forum).
Talking to Extraterrestrials by Lisette Larkins is an eye-opening book worth absorbing. At times I am a slower than normal reader of books, and I manage to get a little read each night before falling to sleep. As a result of this book, I've had some interesting dreams, not to mention some good spiritual food for thought.
After the first edition of her book, Larkins revised and put out the second edition. Talking to Extraterrestrials is her conversations with enlightened beings whom she says have come to Earth to nurture and help us through our own evolution. Why? Perhaps because others have done for them the same thing at similar stages of their development.
Stimulating chapter names will keep you interested as you move your way through the book. "Who We Are, Why We Are Here," "First Contact," "Magic and Miracles," "Money and Manifestation," "Crop Circles and Other Contact," "Love and Sex," "Interspecies Communication and Communion," and more ... there is a lot to digest, but the author presents in an easy-to-follow way, where she'll ask the questions of the ETs, and they reply ... in depth.
A timely topic in the book asks, "How will the whole world awaken when it doesn't seem that everyone wants to awaken spiritually? Many people are still busy finding ways to destroy one another."
The author was contacted earlier in life by extraterrestrials, much to her surprise at the time. She views them as her mentors and says that implementing their counsel has resulted in her dream life in Malibu, Calif., training at Cross Fit, volunteering with her therapy dog, writing new books, speaking and lecturing on abundance creation. You can read more about Larkins at her Web site: www.lisettelarkins.com.
---
Spring Break Adventure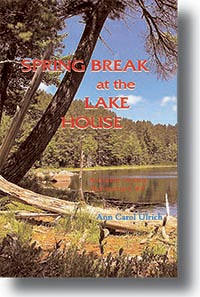 Spring Break at the Lake House
Annette Vetter Adventure #7
by Ann Carol Ulrich
ISBN 978-0-944851-49-4
Earth Star Publications
192 pages, Fiction, $9.95

Review by Chrystle Clae

Ann Carol Ulrich does not disappoint her readers. Her 7th mystery in the Annette Vetter Adventure series could be her best yet.
Ms. Ulrich conjures deeply, connecting characters who admirably teach by experience to encourage the betterment of the others.
This novel, set in northern Wisconsin, takes place in the late '60s, and often refers to the Vietnam war and its men who served, along with the women and children worried at home.
The depiction of the '60s era is expertly penned, and Annette's 15-year-old perception is as real as it gets. The reader can feel the gray cloud of war in the happiest times of Spring Break in the north woods of beautiful Minocqua, Wisconsin.
One mystery after another draws Annette and her beloved friends closer and more protective, and keeps the reader turning pages. The characters draw each other deeper and deeper into their adventures, including the war hero father and his family notified that he is M.I.A., as well as a "draft dodger," vandals/thieves, and a bear who helps solve a mystery or two himself.
I look forward to Annette Vetter's adventure #8, which may involve a bit of romance for the teen-ager Annette!
Order the book at AnnUlrichMiller.com.

BACK TO WHAT'S NEW
GO TO EARTH STAR'S HOME PAGE
This page updated August 5, 2017
STAR BEACON
SUBJECT INDEX
2013 2012 2011
2010 2009 2008
2007 2006 2005
2004 2003 2002
2001 2000 1999
1998 1997 1996
1995 1994 1993
1992 1991 1990
1989 1988
Back issues available for $2.00

CLICK HERE to receive FREE bimonthly enewsletter

Earth Star Books
Browse our Book Catalog to view all our books and publications.
Publishing Professional
Earth Star offers editing and production services for self-publishing authors, plus a lot more. You may inquire by contacting us at starbeacon@gmail.com
See all we offer in the way of publishing services. Check it out...
Psychic Readers Page
Our free directory lists intuitives ready to assist you... View Psychics Page...