THE BACK YARD
OF CLARA THE CLUTZ
by Ann Ulrich Miller
with illustrations by the Author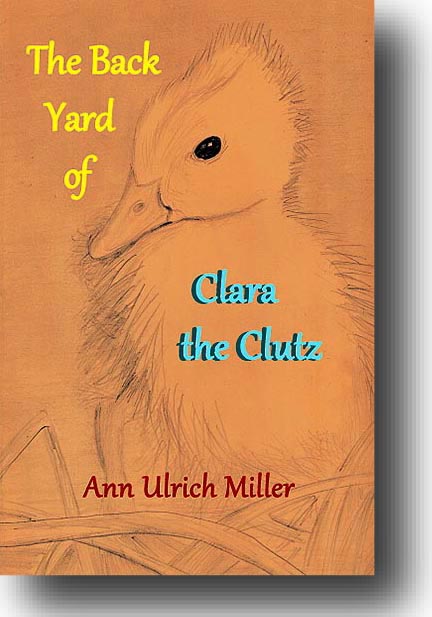 "Lovely, heartwarming story ... filled with humor"
Clara will win your heart in this fictional tale inspired by the "real" Clara the Duck, who lived in the back yard of the Author's family in the 1970s.
Told by Jay, who loved her ... and his struggle as a wild songbird infatuated with a duck.
Also available as an eBook at Amazon Kindle.
Black-and-white illustrations included.
ISBN 978-0-944851-50-0
December 2016
HUMOR/PETS/FAMILY
$7.95
Order
THE BACK YARD OF CLARA THE CLUTZ
You may also order the book by sending check or money order for $9.95 (postpaid) to:
EARTH STAR PUBLICATIONS
P.O. Box 1213 * Cedaredge CO 81413
Colorado residents please add 23 cents sales tax
BACK TO WHAT'S NEW
GO TO EARTH STAR'S HOME PAGE
This page updated December 18, 2016
STAR BEACON
SUBJECT INDEX
2013 2012 2011
2010 2009 2008
2007 2006 2005
2004 2003 2002
2001 2000 1999
1998 1997 1996
1995 1994 1993
1992 1991 1990
1989 1988
Back issues available for $2.00

CLICK HERE to receive FREE monthly newsletter

Earth Star Books
Browse our Book Catalog to view all our books and publications.
Publishing Professional
Earth Star offers editing and production services for self-publishing authors, plus a lot more. You may inquire by contacting us at starbeacon@gmail.com
See all we offer in the way of publishing services. Check it out...
Psychic Readers Page
Our free directory lists intuitives ready to assist you... View Psychics Page...