The Pouting Pumpkin Mystery
Annette Vetter Adventure #3
by ANN CAROL ULRICH
© 2008 (all rights reserved)
---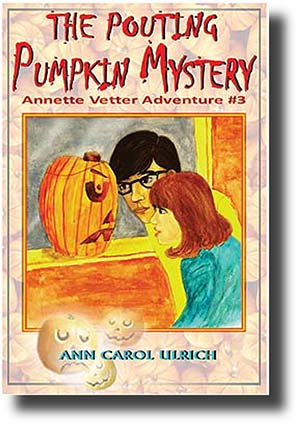 ISBN 0-944851-30-4 July 2008
YOUNG ADULT FICTION -- Mystery
Retail $9.95
It's Homecoming at Ravensville High, and Annette and Penny are both longing to get asked to the big dance. Annette's hopes center around Pete Randt, who seems on the verge of asking her, but is just too darn shy.
The trees are in their peak with autumn color, and Halloween is only two weeks away. The girls have set up a pumpkin stand on the front porch to raise money to buy a horse.
But a drug ring has descended upon rural Ravensville, with kids dropping left and right.
Meanwhile, Pete's older cousin Luke arrives for an extended visit... and he's got his eye on Annette...
Ham radio plays a part in solving the third mystery in this '60s era Annette Vetter adventure series.
Read a Letter to Readers from Annette Vetter herself!

A NOTE FROM THE AUTHOR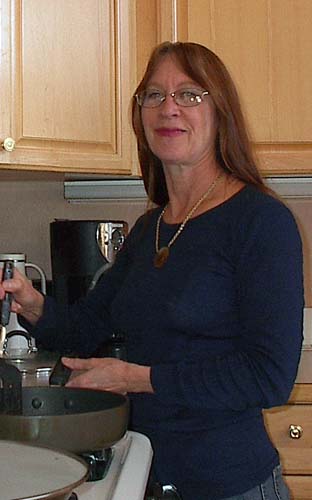 About The Pouting Pumpkin Mystery

There isn't a lovelier time of the year in Wisconsin than the woods in October, with the splendor of autumn colors and Indian Summer afternoons.
My teen-age years hold precious memories as a time when I came to appreciate nature, and the bonding of special friends.
Annette, of course, is the girl I always wanted to be -- bold, rational, and grounded -- but mostly a girl who had the privilege of growing up in the country.
The ham radio theme in The Pouting Pumpkin Mystery was inspired by my oldest brother, Jon Schumacher, whose ham hobby since childhood always fascinated me. At age 62 he is still a ham operator out of Pahrump, Nevada, at KNV1, and his wife, Sally, is a ham at KE7FDD.
Annette and Penny's desire to own a horse together motivates them into growing a pumpkin patch and selling them to raise the needed funds. When the Duncan's hired hand, Dave Beck, suggests they would make more money selling carved jack-o-lanterns, they take him up on his idea... never suspecting the man's true intentions at offering them some helpful advice.
Annette can't seem to make up her mind which boy she likes best in The Pouting Pumpkin Mystery, because even though she's set her sights on Pete Randt, his cousin's pretty groovy... and then... oh dear, there's those mixed-up feelings about her best friend's brother Tim!

-- Ann Carol Ulrich (Ann Ulrich Miller)

Read a sample chapter from The Pouting Pumpkin Mystery

Order
THE
POUTING PUMPKIN MYSTERY
You may also order the book by sending check or money order for $12.95 (postpaid) to:
EARTH STAR PUBLICATIONS
P.O. Box 267, Eckert, CO 81418
Colorado residents please add 67 cents sales tax
Also available as an eBook on KINDLE for just $2.99
BACK TO WHAT'S NEW
GO TO EARTH STAR'S HOME PAGE
This page updated December 22, 2018
STAR BEACON
SUBJECT INDEX
2013 2012 2011
2010 2009 2008
2007 2006 2005
2004 2003 2002
2001 2000 1999
1998 1997 1996
1995 1994 1993
1992 1991 1990
1989 1988

Earth Star Books
Browse our Book Catalog to view all our books and publications.
Publishing Professional
Earth Star offers editing and production services for self-publishing authors, plus a lot more. You may inquire by contacting us at starbeacon@gmail.com
See all we offer in the way of publishing services. Check it out...
Psychic Readers Page
Our free directory lists intuitives ready to assist you... View Psychics Page...