Cosmic Book Review
by ANN ULRICH MILLER
© 2013 (all rights reserved)
An article from the October 2013 issue
of THE STAR BEACON.
Sound healer's ET encounters told in new book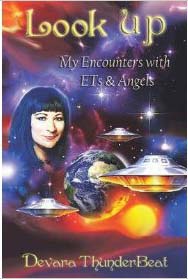 Look Up: My Encounters with ETs & Angels
by Devara ThunderBeat
Balboa Press (2013), 167 pages ($14.99)
ISBN 978-1452577210 Kindle ($4.99)

Review by Ann Ulrich Miller

Some of my favorite New Age music was composed and produced by Devara ThunderBeat, a pioneer in sound healing and a gifted drummer residing in Sedona, Ariz. ThunderBeat's CD, Mayan Landing, is so outstanding and transformational that I was happy to see it mentioned in her new book, Look Up: My Encounter with ETs & Angels, released this past summer from Balboa Press.
Devara and her mother were transported on board a spacecraft when she was just 4 years old, and she tells how these benevolent, loving beings have been in contact with her ever since. They have relayed stunning information about the future of our planet and have been helping us for centuries. The angels and star people have guided ThunderBeat with divine messages and revolutionary ways of healing, which was part of the plan upon which she agreed.
I was especially intrigued with her journey to Egypt to perform ceremonies in the pyramids, and was captivated by the many paranormal experiences—moving between
dimensions—which appeared to have inspired
astounding dreams on my part after reading her book before bed each night!
Star Beacon Australian art contributor Hartmut Jager designed the cover of ThunderBeat's book and many of his illustrations appear inside it.
Grand Father Martin, a Hopi shaman, honored ThunderBeat to speak and carry on the messages of truth. She currently gives inspiring lectures about the thinning of the veils, continuous ascension, the new world, and the transformation into light beings.
Super rock star explores the paranormal world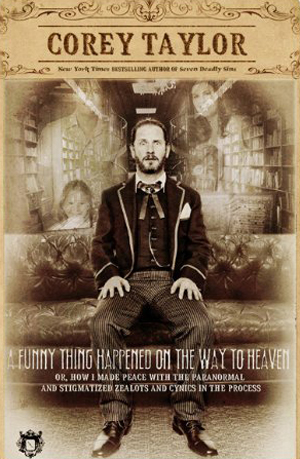 A Funny Thing Happened on the Way to Heaven (Or, How I Made Peace with the Paranormal and Stigmatized Zealots and Cynics in the Process)

by Corey Taylor
Da Capo Press (2013)
ISBN 978-0306822926 Hardback ($24.99) Softcover ($12.27), eBook $9.50


Review by Ann Ulrich Miller

Here is a book a little out of the usual fare for Star Beacon readers, but certainly falls into the category of the paranormal … and I recommend it if you are open-minded enough to enjoy an excellent read without judging the language style. Taylor writes the way he talks, and it might be commonplace to use the "F" word every sentence with the younger generation, but it threw me off in the beginning. That is, until I really got into the meat of his story. Naughty words aside, I found the book exciting and even ... scary.

Corey Taylor is the lead singer of the groups Slip Knot and Stone Sour. In his book, A Funny Thing Happened on the Way to Heaven, he undertakes something never before attempted in the history of rock superstardom: He takes you with him as he journeys undercover through various ghostbusting groups, who do their best to gather information and evidence about the existence of spirits.

Taylor attempts to better understand some of the spooky things that have happened to him in his life, especially that night at "Cold House." I'm here to vouch that you'll feel that tingle go up your spine.

I haven't read his first book, Seven Deadly Sins, but apparently in this second book Taylor once again gives you a behind-the-scenes tour of his crazy life and the many beyond-the-grave events he's encountered. (His group, Slipknot, has actually been invaded often by the supernatural.) Taylor also touches on his religious background and how it led him to believe in much more than the usual hum-drum. And he gives appropriate respect in his search for answers, taking readers on another backstage tour of his crazy life.

BACK TO WHAT'S NEW

GO TO EARTH STAR'S HOME PAGE

This page updated December 7, 2013
STAR BEACON
SUBJECT INDEX
2012 2011 2010
2009 2008 2007
2006 2005 2004
2003 2002 2001
2000 1999 1998
1997 1996 1995
1994 1993 1992
1991 1990 1989
1988
Back issues available for $2.00

CLICK HERE to receive FREE monthly newsletter

Earth Star Books
Browse our Book Catalog to view all our books and publications.
We also sell T-shirts and Cosmic business cards!
SIGN UP for Star Beacon monthly updates!


Click to join starbeacon
Publishing Professional
Earth Star offers editing and production services for self-publishing authors, plus a lot more. You may inquire by contacting us at starbeacon@gmail.com
See all we offer in the way of publishing services. Check it out...
Psychic Readers Page
Our free directory lists intuitives ready to assist you.. View Psychics Page...