DISC-ussion
edited by Ann Ulrich Miller
© 2019 (all rights reserved)
An article from the February 2019 issue of
THE STAR BEACON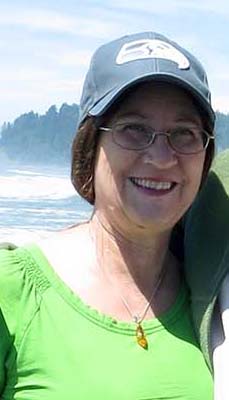 BLUEBOOK
If you haven't already done so, make sure to reserve Tuesday nights this winter for tuning into the History channel. There is a new drama series called "Project Blue Book" that is based on the true, top secret investigations into UFOs and related phenomena that were conducted by the US Air Force between 1951 and 1969.
Dr. J. Allen Hynek is played by actor Aidan Gillen, who many will remember as the deceptive priest character in "Game of Thrones." Hynek was a brilliant, yet underappreciated college professor in Ohio, who was recruited by the Air Force to spearhead a clandestine operation called Project Blue Book.
Along with his partner, the debonair Air Force Captain Michael Quin (played by Michael Malarkey), the professor is summoned to investigate UFO sightings around the country and use science to discover what really happened. However, many of the encounters cannot be explained away and so the cases remain open.
Dr. Hynek begins to suspect that he has been duped by the government into a larger conspiracy to cover up the truth. Set against the backdrop of the Cold War and rising Atomic Era, each episode draws from the actual Project Blue Book case files, blending UFO theories with authentic historical events from one of the most mysterious eras in US history.
As of this writing, I have watched the first three episodes and have been glued to my chair. Of course there is Hollywood drama interwoven as the series also focuses on Hynek's family life — a lonely housewife and their 11-year-old son who is found sleeping ("hiding") in his bedroom closet because he doesn't want the "spacemen" to find him. Mrs. Hynek is befriended (set up) by a very conspicuous, outgoing blonde who wants to be her friend, but has ulterior motives.
The first episode featured George Gorman, a US fighter pilot in Fargo, North Dakota, who witnessed in fall of 1948 a mysterious white orb at high altitude, and experienced a 27-minute air encounter with the object. The incident still lacks an airtight explanation.
In the second episode, "The Flatwoods Monster," Hynek and Quin investigate a sighting in West Virginia that took place on Sept. 12, 1952. The eyewitnesses included six boys aged 10 to 17, a dog and a mother. The encounter made local and national news, scaring a wider swath of people. It prompted the Air Force UFO inquiry that dispatched a handful of investigators around the country to look into the claims.
It was dusk when they saw it. The May brothers Ed, 13, and Freddie, 12, had been playing in their schoolyard with their 10-year-old friend Tommy Hyer. After noticing a pulsing red light streak across the sky and crash on a nearby farm, the three youngsters ran to grab the Mays boys' mother, then high-tailed it up that hill to check out where the light had landed. A few other boys, one with a dog, showed up too. They ran back down—in sheer and credible terror.
"Seven Braxton County residents on Saturday reported seeing a 10-foot Frankenstein-like monster in the hills above Flatwoods," a local newspaper reported afterward. "A National Guard member, [17-year-old] Gene Lemon, was leading the group when he saw what appeared to be a pair of bright eyes in a tree."
Lemon screamed and fell backward, the news account said, "when he saw a 10-foot monster with a blood-red body and a green face that seemed to glow." It may have had claws for hands. It was hard to tell because of the dense mist.
The story made the local news, then got picked up by national radio and big papers all over the country. And, of course, the series also includes the mystery "Men in Black," known for their harassment tactics against people who speak out about UFOs.
The Jan. 21 episode of "Project Blue Book" was about the Lubbock Lights from August 1951. Hundreds of people, including several university scientists, witnessed the flying blue-green lights over the Texas town. One person even took photos. Each episode of this series so far has kept me on the edge of my seat. A cup of hot tea prepared before sitting down to watch remained, untouched and cold, until after the hour-long show was over.
DISCLOSURE ON FOX NEWS
It is well worth seeing and absolutely exciting to see that we are into Disclosure at last.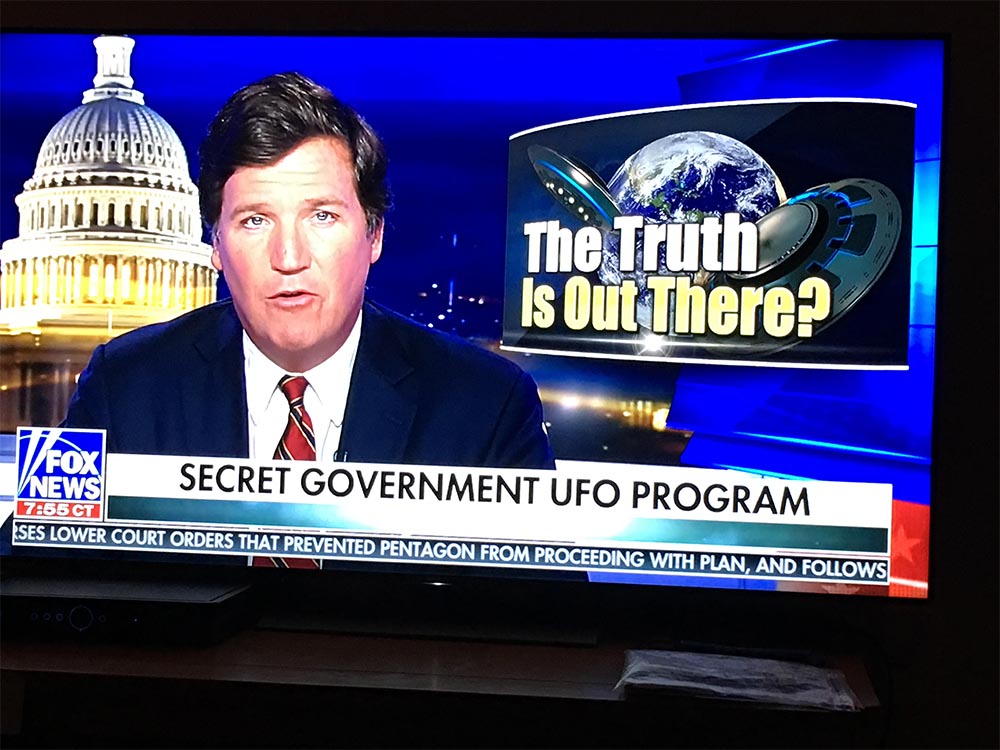 I also want to mention that if you watch Fox News regularly, Tucker Carlson's show, "Tucker Carlson Tonight," which comes on at 8:00 pm Eastern time, often presents the UFO coverup in a serious and non-condemning presentation.
He usually has someone on once a week. Recently his guest was was Nick Pope, UFO investigator. Hats off to Tucker for letting the truth come out ... or at least for asking, finally, the right questions.
Thank you, Tucker!!
For the latest, best information on UFO sightings and related

subjects, sign up for the National UFO Center's Filer's Files. Visit http:// nationalufocenter.com to subscribe.
GO TO EARTH STAR'S HOME PAGE
This page updated February 5, 2019
STAR BEACON
SUBJECT INDEX
2013 2012 2011
2010 2009 2008
2007 2006 2005
2004 2003 2002
2001 2000 1999
1998 1997 1996
1995 1994 1993
1992 1991 1990
1989 1988

CLICK HERE to receive FREE bimonthly enewsletter

Earth Star Books
Browse our Book Catalog to view all our books and publications.
SIGN UP for Star Beacon bimonthly updates!
Email to request signup
Publishing Professional
Earth Star offers editing and production services for self-publishing authors, plus a lot more. You may inquire by contacting us at starbeacon@gmail.com
See all we offer in the way of publishing services. Check it out...
Psychic Readers Page
Our free directory lists intuitives ready to assist you... View Psychics Page...