Conversations with Spirit and John Cali
by JOHN CALI
© 2020 (all rights reserved)
An article from the April 2020 issue of THE STAR BEACON.
Judgment After Death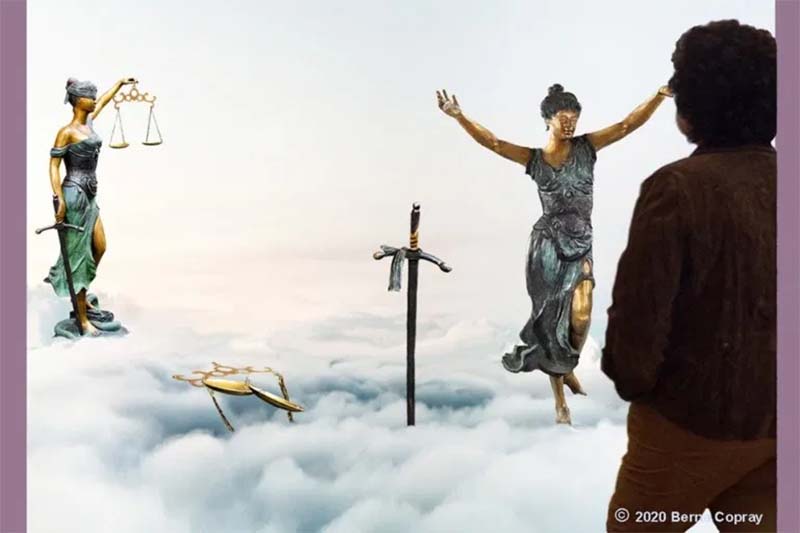 The only way you will ever live fully in the visible world
is to acknowledge the reality of the invisible world.
~ Spirit
As humans with limited vision, we often ask ourselves, "Will I face judgment after death?" Spirit's answer, below, likely will sound harsh to some. But the message is clear.

Spirit

Many of you, including Johnny, grew up in deceptive, manipulative religious cultures. You learned to fear God, to fear Satan, to fear life, to fear death. Above all, you learned to fear judgment after death.
Judgment by whom? Well, usually by that vengeful, angry old white man you perceive God to be.
Nothing, absolutely nothing like that is true. It's one big lie dumped on you for centuries. Yet there is not one shred of truth to it! None!
The only "judgment" you will face after death is the opportunity to simply and lovingly look back
No angry old god! No Satan! You will live forever in that world of only life and no death.
You are your own judge. The afterlife, the realms of spirit we speak to you from, is always a place of peace, joy, and love beyond anything you've known in your physical lives.
You will be greeted with open arms, open hearts, by your loved ones who've gone on before you. They will make it clear to you they love you unconditionally. And they want you to love yourself unconditionally.
It is from that loving place that you can review the life you have just left behind. And you will do it joyfully and lovingly.
There is no judgment day, no judgment. There is only unconditional love and the peace, as your Bible says, that surpasses all understanding. That is what death is really like.
Great Western Publishing
Copyright © 2020 by John Cali and Berna Copray
Edited by Berna Copray
All rights reserved

FREE BOOK!
The Book of Joy: How to Live Every Day of Your Life Happily Ever After.
Get Spirit's wise advice and guidance on how to live your life exactly the way you want to, and how to do it with deep joy. Surf to: www.greatwesternpublishing.org//the-book-of-joy/

Email: john@greatwesternpublishing.org
Website: http://www.greatwesternpublishing.org

Personal readings with Spirit: http://www.greatwesternpublishing.org//the-book-of-joy/

This article was originally published here:
www.greatwesternpublishing.org
BACK TO WHAT'S NEW
GO TO EARTH STAR'S HOME PAGE
This page updated April 6, 2020
STAR BEACON
SUBJECT INDEX
2013 2012 2011
2010 2009 2008
2007 2006 2005
2004 2003 2002
2001 2000 1999
1998 1997 1996
1995 1994 1993
1992 1991 1990
1989 1988

CLICK HERE to receive FREE bimonthly enewsletter

Earth Star Books
Browse our Book Catalog to view all our books and publications.
SIGN UP for Star Beacon bimonthly updates!

Contact email:
starbeacon@gmail.com
Psychic Readers Page
Our free directory lists intuitives ready to assist you.. View Psychics Page...