Cosmic Book Reviews
from the August 2020 Star Beacon
Christianity embraces spirituality in new book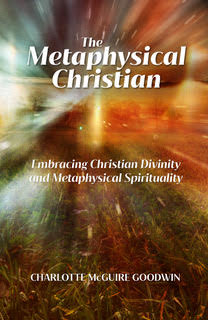 The Metaphysical Christian: Embracing Christian Divinity and Metaphysical Spirituality
by Charlotte McGuire GoodwinMay 2012
ISBN 978-0979834820
Spirits and Miracles LLC
May 2020, 140 pages
Paper $9.99, ebook $3.99

Review by Ann Ulrich Miller
Eleven years ago, before I moved back to Colorado in 2009, I had discovered Charlotte Goodwin's previous book, The Twisted Path, now a treasured item in my metaphysical book collection. I was honored to receive an in-depth reading from Charlotte during that phase in my life when my husband, Ethan Miller, was about to transition from Earth following his terminal illness. She was of tremendous help to me then, and I hold a lot of respect for Charlotte.
Now she has just come out with another book, The Metaphysical Christian: Embracing Christian Divinity and Metaphysical Spirituality, which addresses the harmony of mainstream religions with metaphysical gifts and beliefs.
One of the most difficult things in life has to be someone with such magnificent psychic gifts who is born into a fundamentalist Christian family and begins to manifest their abilities, but ends up being confused and even shamed for having them.
As a child it must have been very difficult for Charlotte as she struggled to justify her gifts while embracing her Christian heritage and beliefs. This book tells about her early life in which she seeks to inform the reader that both Christian Divinity and metaphysical spirituality are revered in the teachings of God's angels and spiritual messengers.
No one needs to be afraid of a journey that includes both.
Charlotte's book is important for those who struggle with the idea that the church frowns on anything beyond their own teachings. She presents it all in a way that is comforting, informative, and sympathetic. I recommend getting a copy of her book, either in paperback or ebook, and sharing it with those you know and love who may question the validity of thinking "outside the box."
I hope she will continue to write more books ... on any subject!
---
BACK TO WHAT'S NEW
GO TO EARTH STAR'S HOME PAGE
This page updated August 19, 2020
STAR BEACON
SUBJECT INDEX
2013 2012 2011
2010 2009 2008
2007 2006 2005
2004 2003 2002
2001 2000 1999
1998 1997 1996
1995 1994 1993
1992 1991 1990
1989 1988
Back issues available for $2.00

CLICK HERE to receive FREE bimonthly enewsletter

Earth Star Books
Browse our Book Catalog to view all our books and publications.
Publishing Professional
Earth Star offers editing and production services for self-publishing authors, plus a lot more. You may inquire by contacting us at starbeacon@gmail.com
See all we offer in the way of publishing services. Check it out...
Psychic Readers Page
Our free directory lists intuitives ready to assist you... View Psychics Page...