DISC-ussion
edited by Ann Ulrich Miller

An article from the December 2021 issue of
THE STAR BEACON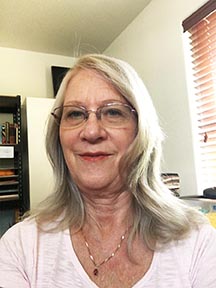 GLASGOW UFO
The following report, published in The Sun, on Nov. 5, 2021, was sent in by T Stokes in the UK. Jemma Carr is the writer of the article titled Bizarre UFO leaves UFO onlookers baffled.
"A bizarre floating object which appeared to fly through the sky has left onlookers in Glasgow, Scotland, baffled.
"Lynsey Currie spotted the strange shape soaring over her flat in Glasgow -- and her boyfriend quickly filmed the odd spectacle.
"She told Glasgow Live that it was flying 'from the northwest of Glasgow towards the southwest' in her footage.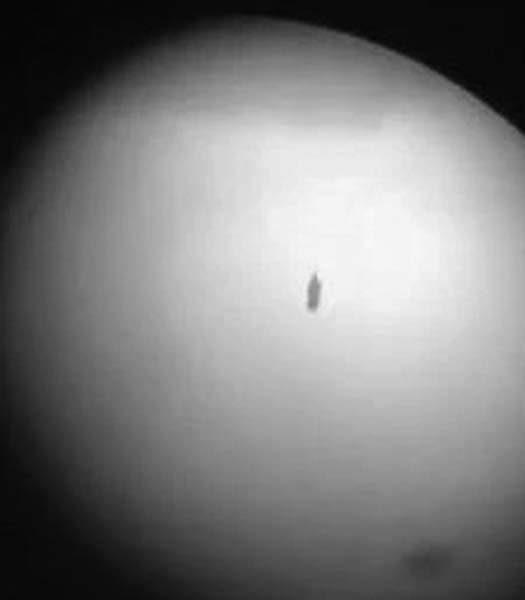 "In the clip her boyfriend can be heard saying, 'It's literally a UFO because it's unidentified. It's coming by us.'
"Meanwhile, Yorkshire has been revealed to be the UK's UFO capital, with more reports than anywhere else.
"Some 200-plus have been 'spotted' there in two decades -- including a glut this year.
"Scores more were reported in the summer, including three in four days.
"UFO watchers claim they may be drawn to the region's open spaces and mountainous terrain.
"Sightings in June (2021) included a 'black triangle' hurtling above Leeds, with 'no noise or lights visible.'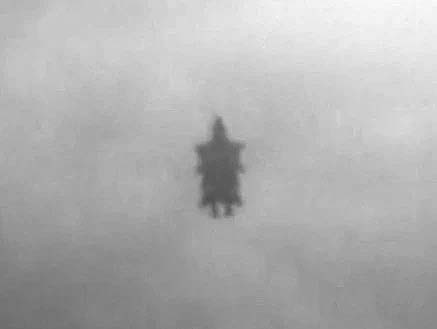 "City residents also noted two thin, black curved crafts flying at speed before stopping and heading off northwest.
"Meanwhile, a real life X-Files office has been opened by a former cop whose UFO books were praised by Prince Philip.
"John Hanson has more than 25,000 reports dating back over two decades and has probed some of the biggest cases in the UK, including the infamous Rendlesham Forest incident of 1980 involving US and British airmen.
"He has opened the British UFO Information Office to give the public access to his vast collection of documents and files.
"John, who spent 30 years in the force, said: 'I began collecting information and records from a number of UFO groups over the years.
" 'I thought it best to date all of the material -- for example, if you said what happened in January 1995, I would set out four huge files showing on a day-to-day basis what was reported both by the press and the UFO groups concerned.
'I anticipate 250,000 documents, I haven't finished yet!'
WISCONSIN OBJECT
Richard Heiden has been cataloguing UFO reports for decades. He sent me this clipping of a photo taken from Janesville, Wis., on Jan. 1, 2020, which was on Filer's Files.
"While driving we saw three white lights flashing red mixed in at times on January 1, 2020. It moved overhead and looked triangular; I took my phone out to film -- looking at my crappy footage later, we saw a tiny spaceship that could only be a few inches at most zip around our car. It's January in Wisconsin. There are no bugs, and my window was rolled all the way down, so it's not a reflection either. A disc spaceship looks completely self-evident."
FARMINGTON, N.M.'S UFO ANNIVERSARY
A largely forgotten event that was once the talk of the town in northern New Mexico was remembered 70 years later (in spring of 2020) in an article by Mike Easterling in the Farmington Daily Times. Once again, thanks to researcher Richard Heiden for submitting this historical clipping.
According to the article, from March 16-18, 1950, Farmington experienced a massive UFO sighting. Some reports indicated that hundreds of residents saw strange objects in the sky during broad daylight over the three-day period. Their accounts were also published in The Sante Fe New Mexican and the Las Vegas (N.M.) Daily Optic. An account of the incident by The Associated Press was picked up by newspapers across the country.
According to Easterling's article, the event was a fantastic story, "one that might have seemed destined to leave an indelible impression on UFO history and the sizable community of amateur sleuths and researchers who have made it their duty to investigate and publicize such incidents.
"And yet, the Farmington UFO incident of 1950 largely has been lost to history, especially when it is compared to its in-state counterpart, the famed, alleged crash of an alien spacecraft on a ranch northwest of Roswell in June 1947.
"With seven decades having passed, that remains true, even though Farmington's brush with UFO fame, or Infamy, holds up to scrutiny far better than most other incidents, many of them much better known. That's the assessment of an Albuquerque man who studies such phenomena, but who acknowledges the need to take a skeptical approach to most UFO reports.
"David Marler, an independent UFO researcher and author who works in the health care field, has spent years studying the Farmington UFO incident, delivering his findings in the form of a website that serves as the most exhaustive and in-depth report on the event. He labels it 'one of the most dramatic and well-documented cases in the history of UFO phenomenon' and said his research has uncovered dozens of similar sightings in the American Southwest, Mexico and Central America during that same time period."
Apparently, there was a lot more than Farmington going on during March of 1950, according to Marler. And he isn't alone in feeling compelled to gain a better understanding of the incident. "Many people who take a keen interest in the history of San Juan County share that fascination, and some have direct ties to the mass sighting that has become part of their family lore.
"Patty Tharp of the San Juan County Historical Society is the niece of one of the witnesses to the incident, Clayton Boddy, who served as the business manager of The Daily Times in 1950. She recalls her late uncle regularly talking about the sighting when she was growing up and said the tale of the UFO armada is well known among the county's older residents. She remembers her uncle as a man not given to exaggeration, and said he wasn't the kind to call attention to himself by manufacturing outlandish stories. He definitely believed he witnessed something out of the ordinary that day, Tharp said." She adds that her uncle described the object and said other people had seen it as well.
Apparently there were several elements that separate the Farmington UFO incident from others, according to Marler. "... Mostly the fact that so many people claim to have witnessed it. The sightings took place between 11 am and noon each day in the skies over San Juan County, not at night in some remote location where they were witnessed by only a single person or a handful of people.
"Marler also notes the sightings were thoroughly documented and reported in various newspapers at the time." ... "The Farmington Daily Times' account chronicles how pedestrians along Main Street could be seen looking skyward and pointing, and the paper reportedly was 'deluged' with calls from readers reporting the objects, although the story explains that high winds and a dust storm prevented clear vision.
"The account explains how the objects appeared to play tag, traveling at 'almost unbelievable speeds.' The paper quoted Boddy, a former Army captain, who said he was on Broadway Avenue when he became aware of the phenomenon. 'All of a sudden, I noticed a few moving objects high in the sky,' he is reported as having said. 'Moments later, there appeared to (be) hundreds of them.'
"Boddy declined to estimate the size or speed of the objects, but he said they appeared to (be) flying at an altitude of approximately 15,000 feet."
Several other witnesses, including merchants, housewives, mechanics, insurance agents and Harold F. Thatcher, head of the Farmington unit of the Soil Conservation Service, were quoted in the story. "Thatcher was quoted as emphatically denying a theory that the objects people had seen were bits of cotton floating in the air."
Why did the Farmington incident never capture the public's imagination like other UFO incidents the way Roswell did? "Marler gives some credence to the idea that Farmington is a very conventional town and perhaps has collectively downplayed the incident for fear of being labeled the same way Roswell has been." Yet Tharp doesn't see it that way. " 'I would disagree with that,' she said. 'Roswell is just as conservative as Farmington. There were so few people in 1950 who lived here ... Maybe it just kind of went by the wayside.'
"Zang Wood, former president of the San Juan County Historical Society, and a Farmington High School student in the fall of 1950, said Farmington is a conservative place that likely would bristle at being associated with little green men. But mostly, he thinks people just decided to leave the incident behind.
" 'It's just like so many other things,' he said. 'Just like the coronovirus -- they'll talk about it for a year, then move on. ... We have other things to worry about.' "
Richard Heiden also submitted the following interesting piece that appeared in The Sheboygan Press (Wis.) on Sunday, March 15, 2020:
'KEEP EYES PEELED FOR UFO ACTIVITY'
In an article by Larry Bleiberg (Special to USA Today), he suggests paranormal vacation places:
Roswell, NM: "Ever since a mysterious object suspected to be an alien spacecraft crashed in 1947, this small town has been the center of UFO conspiracy theories. 'It's the grand-daddy case of the modern era of flying saucers,' O'Leary says. Today, the town embraces its status with an annual UFO festival and the International UFO Museum & Research Center."
Area 51, Rachel, NV: "The tiny desert settlement of Rachel is the closest most humans can get to Area 51, the shadowy US Air Force Base tied to countless UFO sightings. 'For decades people have been seeing strange crafts in the sky,' O'Leary says. 'The area is cloaked in secrecy.' The town, pop. 54, is home to the Little A'Le'Inn, a UFO-themed restaurant and bar, and located just off Nevada State Rt. 375, also known as the Extraterrestrial Highway."
Skinwalker Rancher, Uintah Valley, UT: "Long the focus of paranormal folklore, this Utah ranch is the focal point of Tuesday's episode, ("Curse of the Skinwalker"). But before you add it to your itinerary, note that it's on private property and not open to tours. Still, there have been many sightings of unexplained creatures and other oddities throughout the surrounding Uintah Valley region.'It's a hotbed of events and UFO activity. It dates back to Native American claims,' O'Leary says."
McMinnville, Oregon: "In 1950, Life Magazine published some of the most famous images in UFO history, a series of flying saucer images taken by a local farmer. 'It is to this day one of the best UFO sightings in terms of photographic evidence,' O'Leary says. 'They're very clear and have never been proven to be a fraud.' The city celebrates the mysterious incident with an annual UFO festival in May."
Sedona, Arizona: "This red-rock rimmed city north of Phoenix has long attracted visitors, drawn by what has been described as vortexes" (the proper plural form of 'vortices' is rarely used).'It has always been a place of power, having certain energies,' O'Leary says. The city's visitors bureau provides maps to the most popular sites, which include Airport Mesa, Cathedral Rock, Bell Rock and Boynton Canyon."
Flatwoods, West Virginia: In 1952, a fireball streaked through the sky over West Virginia, and several young residents reported seeing an unidentifiable monster in the small town of Flatwoods. Today the community celebrates the story with a museum and proudly notes the area has also had sightings of Bigfoot. 'There's a pattern in West Virginia of seeing strange creatures in the woods,' O'Leary says."
Fargo, North Dakota: In 1948, National Guard pilot George F. Gorman found himself in what he described as an aerial chase with an unidentified craft zooming over Fargo. The encounter, which began over the city's Hector Airport, lasted about 20 minutes and has come to be known as the Gorman Dogfight. 'It's a very, very famous case,' says O'Leary, who explored the incident in the first 'Project Blue Book' episode.
Marfa, Texas: "The wide-open plains of West Texas have seen many unexplained nighttime phenomenon, most notably the lights regularly seen darting through the skies near the small town of Marfa. The city even has an official Marfa Lights viewing area, designated by a historic marker, and sponsors an annual lights festival. 'It's a great case. Texas has a long history with lights seen in the sky,' O'Leary says.
San Luis Valley, Colorado: This area, which is pretty enough to warrant a visit even if you don't believe in aliens, claims to have the highest percentage of UFO sightings per capita. O'Leary says there have been stories of quick-moving lights, bizarre cigar-shaped objects, and flying discs. These days, visitors can stop by a UFO Watchtower built in the town of Hooper and cruise Colorado 17.
Hudson Valley, New York: Since 1909, this area north of Manhattan has reported startling eyewitness UFO accounts. In recent years, there have been many near the Governor Marlo M. Cuomo Bridge (the replacement for the Tappan Zee Bridge), crossing the Hudson near Tarrytown and Nyack, New York. 'Many, many people have seen strange things there,' O'Leary says.
Again, much thanks to researcher Richard Heiden for his contributions.
GO TO EARTH STAR'S HOME PAGE
This page updated December 7, 2021
STAR BEACON
SUBJECT INDEX
2013 2012 2011
2010 2009 2008
2007 2006 2005
2004 2003 2002
2001 2000 1999
1998 1997 1996
1995 1994 1993
1992 1991 1990
1989 1988

CLICK HERE to receive FREE bimonthly enewsletter

Earth Star Books
Browse our Book Catalog to view all our books and publications.
SIGN UP for Star Beacon bimonthly updates!
Email to request signup
Publishing Professional
Earth Star offers editing and production services for self-publishing authors, plus a lot more. You may inquire by contacting us at starbeacon@gmail.com
See all we offer in the way of publishing services. Check it out...
Psychic Readers Page
Our free directory lists intuitives ready to assist you... View Psychics Page...